In late March 2020, 16 million U.S. workers began working from home, and the number has increased months later.
So, what does this mean for your future workspace? I mean, who doesn't want to work from home? As it turns out - A LOT OF PEOPLE! As many employers increase the percentage of work-from-home (WFH) employees and contingency workers, how will that reality affect your productivity, connection with coworkers, and your health?
14% of corporate workers regularly use coworking spaces already, and this number is projected to more than double in future.
While these spaces currently comprise less than 5% of the market, they're expected to make up 30% by 2030. With a potential large scale future shift in work environs, a coworking space may be your optimal environment.
Between a Rock (WFH/unsafe traditional office space) and an Optimal Space (coworking)
In the beginning, staying in place wasn't so bad. We had a shorter commute, a relaxed dress code and all the comforts of home. But, when reality hit, we were working in close quarters with family members—sometimes in a cramped corner or at our dining room table.
While the pandemic radically changed the percentage of WFH employees/entrepreneurs/freelancers/contingency workers as opposed to those operating out of a traditional office space, this current reality has been on our horizon for years.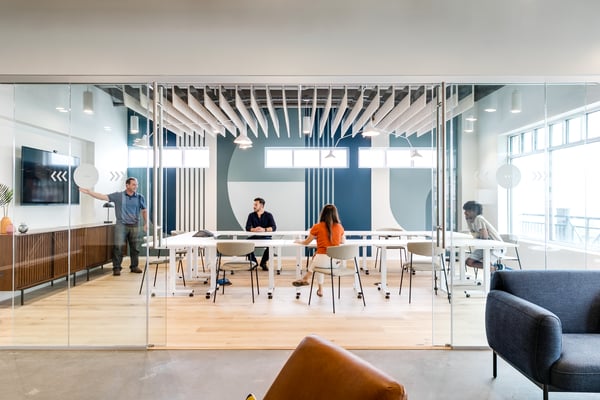 Coworking spaces are a crucial support structure for small businesses, sole proprietors, startups, business travelers, digital nomads and freelancers. Most co-working spaces have already adapted their facilities to a sanitized and physically-distanced setting so they serve as a ready made shared workspace offering convenience and basic infrastructure (i.e. printers, wifi connectivity, audio-visual equipment, mailboxes, conference rooms, etc.).
Coworking spaces like Gather offer many options traditional offices don't: community workspace with restaurant-style booths; multiple-person tables; dedicated desks; private offices and office suites for teams.
They also put more thought into their lighting, creative design and outdoor space.
Coworkers with Gather can also avoid the expense of receptionists and office administrators, as their spaces are staffed by Community Managers, who greet visitors, sort mail, make coffee, maintain the kitchen, coordinate conference room scheduling and more.
Productivity and Motivation
Many business leaders say productivity (25%) and communication (24%) issues are business roadblocks to WFH employees and contingency workers. Though current experiences of allowing employees to WFH has reduced employers' suspicion of WFH capability, coworking spaces offer collaboration and engagement that legitimizes remote work as a long-term option.
A coworking space may actually increase productivity and creative thinking by helping members dial in their focus. In addition, they offer shared talent and technology which promotes overall productivity. As far as motivation goes, operating out of a shared space motivates coworkers to emulate their peers in getting down to business. The energy of fellow coworkers is truly inspirational.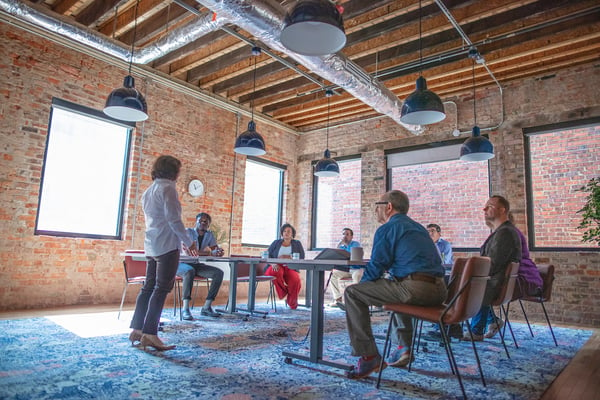 Connection
Thankfully, technological advances, especially video technology, allowed us to collaborate with coworkers and other professionals. Unfortunately, this barrage of digital communication, combined with social and physical isolation, whet our appetite for face-to-face human connection. Coworking spaces are uniquely positioned to meet this need. As community hubs which increase professional networking, co-working spaces are likely to emerge as the new job hub, churning out more opportunities for jobs and building your business.
Your Health
Gather coworking spaces remained open during the pandemic allowing essential-business members to continue their work in a healthy environment that follows CDC safety guidelines. They've been ensuring members' health and sense of security from the beginning. Safety planning and implementation has been their focus for months. Gather administration laid out arrows to route foot traffic in optimal directions for social distancing, managed the number of people on-site and reduced physical contact between members. They put in place additional sanitizing capabilities and enhanced cleaning services while adding hand/surface sanitization stations in common spaces.
Additional Benefit — Cost Savings
From startups in downtown Pittsburgh to high tech social media campuses outside of San Francisco, offices across the country have been mostly empty for months — reportedly only 20 to 30 percent of workers are working from a traditional office space.
Coworking spaces offer shorter leases than the multi-year contracts of traditional office spaces. Coworking spaces offer annual leases with the ability to grow or reduce their coworking space at Gather. While large corporations endeavor to "de-densify" their office spaces in answer to current CDC guidelines, they can opt to relocate workers to coworking spaces.
On average, employers who allow employees to work from home part-time save about $11,000 per year. Gather's yearly membership is typically much lower.
In our upcoming post-pandemic economy, Gather rents workspace that: brings you closer to others while remaining well; helps build connections; promotes greater productivity and motivation; and saves corporations on their workspace infrastructure.