Discover the dynamic world of Gather, where modern workspaces blend seamlessly with a vibrant community atmosphere. Whether you're a solo entrepreneur or part of a Fortune 5,000 company, Gather provides flexible workspace solutions that empower you to excel. One of our most exciting events, the Free Day of Coworking, is just around the corner on August 9th, 2023. Join us and experience the benefits of our collaborative workspaces firsthand. In this blog, we'll walk you through what to expect and how to make the most of this unique opportunity.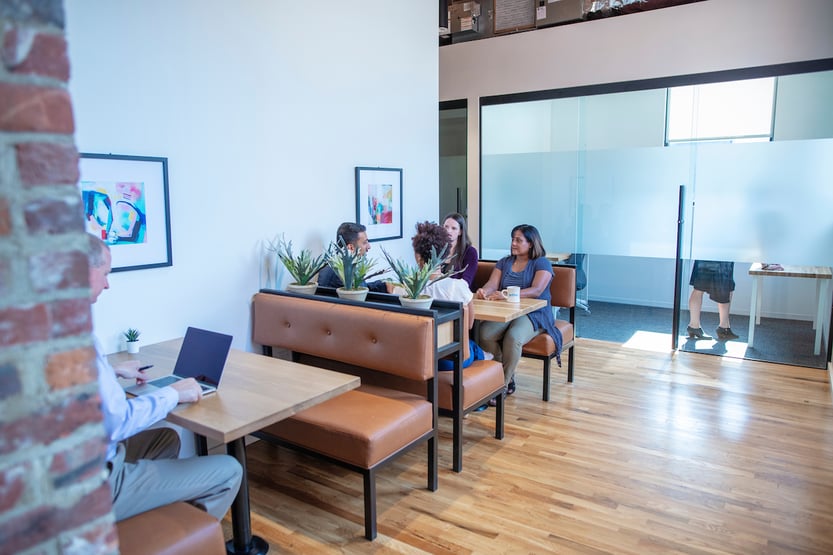 Register for Gather's Next Free Day of Coworking
On August 9th, 2023, Gather invites you to its Free Day of Coworking event. Sign up for this special day by selecting your preferred location below. Registration is easy via Eventbrite. Secure your spot now!
Free Day of Coworking / Gather at Arts District
Free Day of Coworking / Gather at Newport News
Free Day of Coworking / Gather at Norfolk
Free Day of Coworking / Gather at Scott's Addition
Free Day of Coworking / Gather at Virginia Beach
Free Day of Coworking / Gather at Short Pump
Free Day of Coworking / Gather at Midlothian
What To Expect At Gather
Gather is a workspace community where jobs are more than just arduous tasks and endless meetings. With our workspace solutions, teams of every size can find a place to do their best work, with the added benefits of interactions with other like-minded professionals who also choose Gather.
Elevate Your Day-to-Day Operations
Businesses can elevate their day-to-day operations with our flexible environments that can allow employees to work better, help increase engagement, and solve the remote/hybrid workforce challenges. With rising office space costs, businesses can also maximize their budget by paying only for the space they need.
Eligibility For Free Day of Coworking
With our Free Day of Coworking offered every two months, businesses and professionals can explore the benefits of Gather workspaces by trying our space solutions for free. Anyone is eligible to participate in our free day at Gather. Even if you have a large team, you can bring all of your employees to work together.
Types of Gather Workspace Solutions
If you are interested in trying Gather on the Free Day of Coworking, we'd love to have you test drive our coworking space for the day. In the meantime, it's also important for you to know all of the different types of workspaces we offer.
If you are a smaller business or team of one, our Dedicated Desk provides a work desk that'll allow you to establish a sense of permanency and personalization. You can store your personal belongings and make this desk your own.
For privacy and customization that goes beyond the Dedicated Desk, your business can utilize a Standard Office Space. This is a private office that ranges in size depending on your team. If you choose to work at Gather, community managers can tailor your workspace experience to fit your business's needs.
If you have a large team or are looking for space for your enterprise, our Office Suites are designed to accommodate large, growing companies. Like most Gather workspace solutions, the office suites can be tailored to help your employees work efficiently. These suites can be customized for collaboration and include conference and meeting room access.
Whether you need a work spot away from home or want to work amongst other professionals, Gather Coworking spaces provide you a place to set up and get your best work done. Included are all the resources you need, from the right technology to conference rooms and community events.
With Gather Coworking spaces, you can revitalize your workday at a place where community and creativity thrive.
Networking Opportunities
At Gather, networking is always happening. With a variety of businesses and professionals in the same building, you have access to networking opportunities that can help your business and personal brand grow.
Whether it's at a community event or shared spaces like the mail and wellness rooms, there is always the opportunity to learn more and expand your connections with others. Learn more about networking at Gather.
Conclusion
At Gather, we're passionate about creating workspaces that inspire productivity and foster connections. Join us on August 9th, 2023, for our Free Day of Coworking event and discover how our innovative solutions can transform your work experience. Register today at your nearest Gather location and embrace a new chapter of success and collaboration. We look forward to welcoming you to the Gather community!