Research finds that many businesses are failing to recognize the importance of employee engagement. Instead of focusing on this key indicator of a thriving work culture, company leaders might focus too much on what makes their employees happy and satisfied.
While content employees do help create a successful company, leading studies demonstrate how maintaining quality engagement leads to better business outcomes and employees who want to stay. Through the capabilities of coworking spaces, businesses can revitalize their approach to employee engagement and improve their work culture.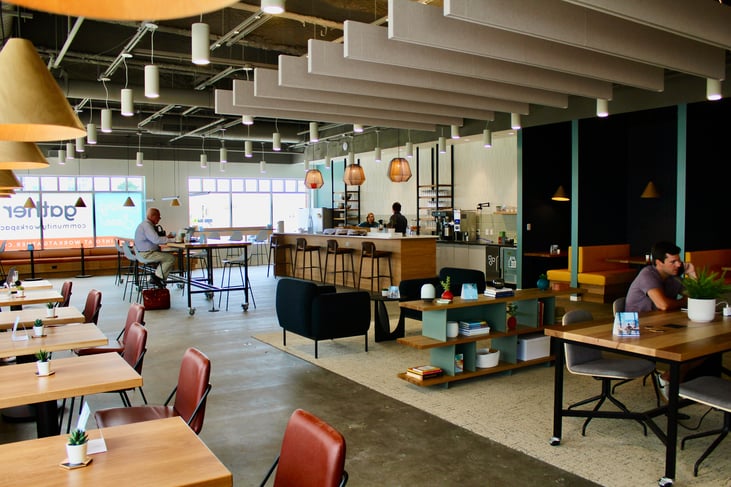 Why is Employee Engagement a Problem?
According to Gallup's State of the Global Workplace: 2022 Report, nearly 65 percent of the U.S. workforce is not engaged. According to Gallup, these employees are indifferent about their work responsibilities and lack passion for their company's success. This may pose existential threats to a company's longevity and inhibit productivity.
While happiness and job satisfaction are important, they are usually the result of real engagement. Instead of merely catering to a list of employee desires, businesses may want to emphasize some common tips for improving employee engagement: clarify work expectations, invest in skills development opportunities, and allow employees to use their talents. Fortunately, a struggling work environment can be improved with the right strategy, and boosting engagement begins with the right workspace.
How Coworking Spaces Yield Better Business Results
Approaching engagement as a business strategy has been shown to yield better results with employees and customers. When every level of an organization functions optimally, businesses may increase their chances for positive outcomes and higher profits. Coworking spaces allow companies of every size to increase employee engagement and benefit from productive interaction.
A Collaborative Space
Coworking spaces offer a collaborative work environment where employees can interact and engage with coworkers and managers. When faced with projects and assignments, employees can work together efficiently to produce high-quality work. Coworking spaces make the difficulties more manageable by bringing employees together.
Boosts Employee Development

A critical part of engagement is providing the necessary development plan for employees to grow their skill sets and become better at their jobs. Employees value companies that invest in their futures and will commit valuable work in return. Coworking spaces allow managers to help employees' skills grow with a variety of space solutions for team and individual training. They also facilitate networking, allowing employees to grow their professional contacts that will help them throughout their careers.
Fosters Communication
Solid communication in the workplace ensures employees have the information they need to perform well, improves productivity, and eliminates workplace inefficiencies. Effective communication helps accurately convey information about job responsibilities, deadlines, and goals. Coworking spaces create an environment where employees can ask questions and get the answers they need without any obstacles.
A Solution to Remote Work
Some employers have found engagement to be lacking with fully remote teams. Remote work can create challenges for employees that affect their job performance and integration within a company. Coworking spaces offer affordable workspaces where teams can come together again with the same flexibility that remote workers love. Companies that adopt flexspaces can provide the engagement benefits to their employees without having to sign long-term leases or buy office property.
Want to Improve Your Company Culture and Engagement Levels? Tour one of Gather's Seven Locations Today.
At Gather, we provide coworking spaces tailored to fit your business's exact spatial needs. We offer a variety of workspace options to accommodate teams of every size. By choosing Gather as your company's workplace hub, you can improve employee engagement and see a lasting impact on your work culture. Take a tour of one of our seven locations across Virginia today!