Coworking has become the modern way of working, offering a dynamic environment that fosters productivity and interaction among diverse members. By joining a flexible workspace, your business growth can be significantly accelerated, as evidenced by a Fundera report from January 2023, which found that 82% of people in flexible office space have expanded their professional network. Multiple companies sharing the same facilities provide ample networking opportunities, making coworking spaces a great choice for freelancers and small to large businesses looking for a vibrant workspace for their teams. Having access to amenities that enhance team productivity and a community of movers and shakers to collaborate with are simply the natural outcome of working in a flexible office space.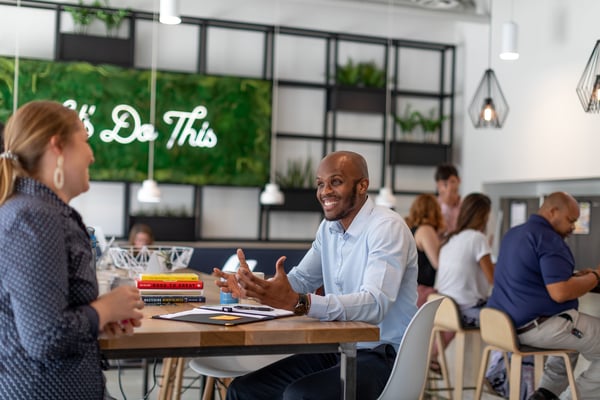 We seek to live out this reality every day for our members, offering a unique combination of resources to help professionals in our workspaces expand their network and drive more business.
Socialize and network at member events.
One of the unique features of Gather is our focus on community-building through social events. At each Gather location, you will find that our Community Managers host unique events for our members to enjoy, and our events are designed with you, your team, and our community in mind. From Food Truck Fridays to Cookie Wednesdays, members can hang out and network with other business professionals in the space. It's a non-threatening, casual way of making real connections.
Meet potential clients around the workspace.
In the wake of the pandemic, a majority of us have had the opportunity to work completely remotely. While this arrangement offers the benefits of convenience and work-life balance, it can potentially restrict a company's ability to develop partnerships or acquire new customers. As a result, business development departments and sales managers have had to devise novel remote working strategies to achieve or surpass their previous sales outcomes.
We've seen the opposite impact within our workspaces. According to a survey conducted by Deskmag, a publication dedicated to the coworking industry, 82% of respondents reported that their business expanded since joining a coworking space. Members have the luxury of building relationships in-person with fellow coworking members, sometimes leading to new business opportunities.
Host prospects in a professional, modern space and book meeting rooms.
In spite of the fact that hybrid and virtual work cultures are the new norm for many companies, organizations should still plan and host in-person meetings and events with prospects. Gather offers high-quality meeting spaces, including whiteboards, high-speed internet, audio-visual equipment, and refreshments, at all seven locations. Professional meeting spaces can facilitate more impactful experiences and, ultimately, increase your chances of winning business opportunities.
Tour one of our seven Gather locations.
What else makes Gather the best place to cowork and rent office space? Not only do we help our members broaden their network, but we also help them to deliver on a human-centric approach to employee experience and engagement. So, are you looking for private office space or coworking memberships for you and your team? Gather provides various workspace solutions for the growing business.