Among the most important factors to consider when choosing a coworking space are:
Location
Access to the space
How the space is staffed
Availability of the space you need
Look and feel of the space
Amenities offered
Flexibility of the membership agreement.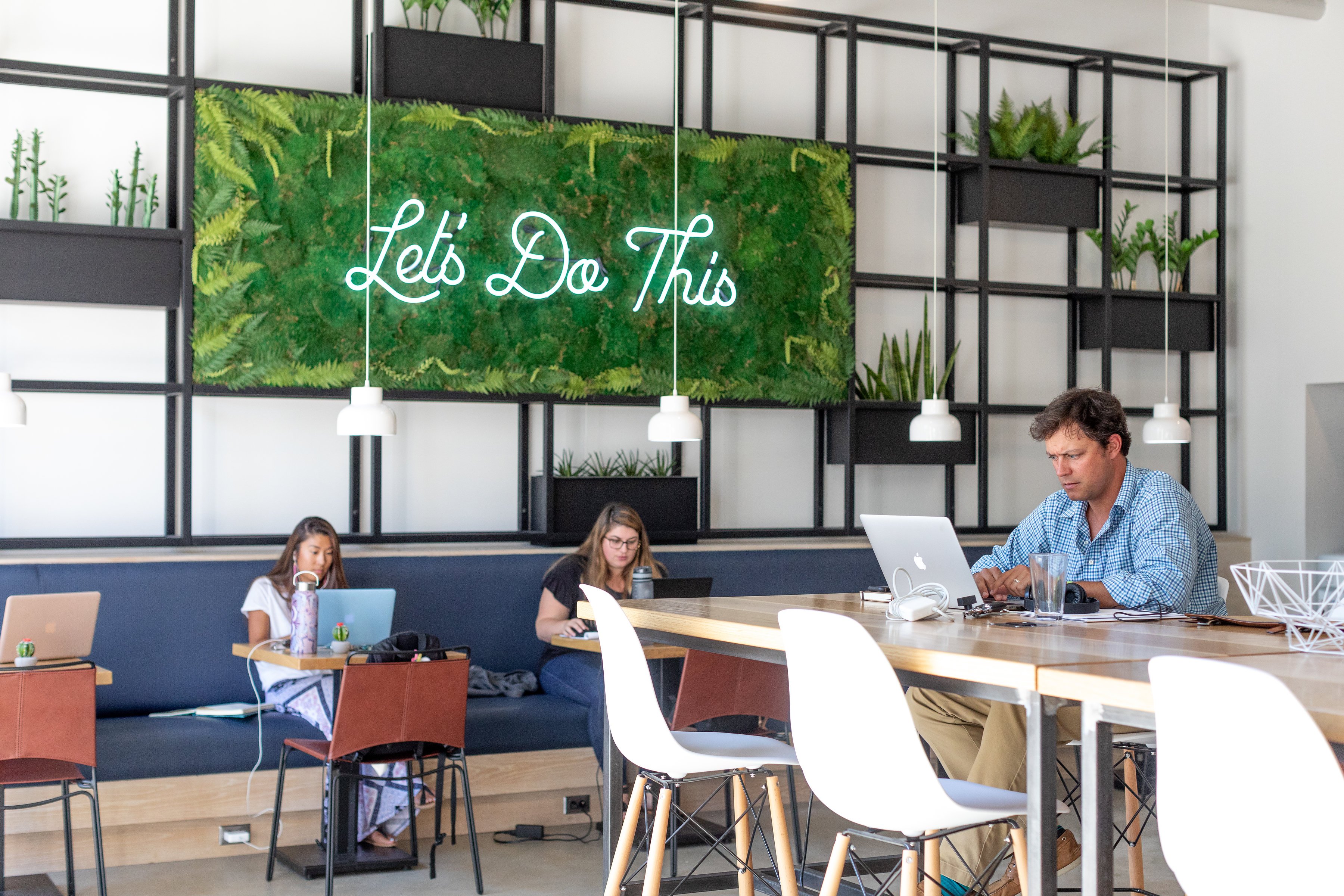 1. Location
One of the most important elements to look for when choosing a workspace is the location. Many people look for a coworking space that is close to where they live. This makes sense because if your workspace is close to where you live, it minimizes the commute. A workspace close to home makes it easy to pop into the office on the weekend to get an hour or two of work done—something you are much less likely to do if traveling to your workspace takes an hour each way. If your workspace is close to home, perhaps you will head home to eat lunch with your spouse. Forgetting some important papers at home isn't a big deal if home is five minutes away.
Some people prefer an office location that is close to their clients or customers. This certainly makes it more convenient for them to meet with you at your office and therefore, may improve your business. If the coworking provider has multiple locations across the city and offers reciprocity, it's sometimes possible to get the best of both worlds—choose a location for your office that is convenient to where you live, but use conference rooms in other locations to meet with clients.
When considering the location, think about how you will travel to and from work. Is the coworking space close enough to where you live so that you can walk? Are both the workspace and where you live convenient to public transportation, so that you could commute on the bus and/or the subway? If you plan to ride a bike to work, how are the roads you will have to travel and is there a place to safely secure your bike at the coworking space? Will you need a shower after riding to work? If so, is one available? If you plan to drive, where will you park? Is parking free? If not, how much will it cost? Make sure to include this cost when calculating the monthly cost of your new office space. How far is the walk from where you will park to your office space? Will the walk be manageable in types of weather (e.g., rain, snow, hot summer days, etc.)?
2. Access
When will you have access to the coworking space? Obviously, having access 24/7/365 is preferable because it gives you the most flexibility. If you know that you will frequently want to work nights and weekends, then not having this kind of access might be a deal breaker for you. On the other hand, if you are absolutely not going to use the workspace on nights or weekends, then access from 8:00 a.m. to 6:00 p.m. on business days might work just fine for you.
Even if you have access to the space, it is important to understand if the space will be usable during off hours, given the way you work. For example, suppose you have a hot desk. If the work café where your hot desk is located is used for networking events three or four nights each week, this could be problematic if you want to work in the evening. Can the coworking provider offer you an alternative workspace when the work café isn't conducive to the kind of work you do?
If the coworking provider has multiple locations around the city or locations in other cities, what access will you have to locations that are not your primary location? Is this something that you value and would likely use?
3. Staffing
Is the coworking location you are considering staffed? On which days and during what hours? What will the staff do that will benefit you? For example, the staff at coworking spaces will often: greet your guests, make them feel welcome, and let you know that your guests are waiting for you; make coffee and fruit infused water; do the dishes and put them away; sanitize frequently touched surfaces; ask people in the space to follow health and safety protocols; ensure that copy machines/printers are fully stocked; accept your packages or food deliveries; help with technical issues (e.g., connecting to the WiFi or printing); and deal with any facility issues (e.g., a backed up toilet, a hot office, a broken copy machine, etc.).
If the organization is not staffed or only staffed intermittently, who will take care of the tasks outlined above? Normally, the answer is that they will have to be done by members or they won't get done.
Be aware that for full coverage, each location typically needs to be staffed with at least two people. If there is only one staff member, when he/she is on break, at lunch, giving a tour, using the restroom, or performing some other function (e.g., putting toner in the printer); there will be no one to greet your guests or help you with any of the other functions described above.
4. Availability
Is the type of workspace you want/need available? For example, if you want a one person office with a window, is there one available? If not, how will the coworking provider accommodate you? Will they put you into a larger office with a window at the same price as the one person office you want until it becomes available?
5. Look and Feel
Does the look and feel of the space work for you? Coworking spaces come in a variety of types. Make sure to choose the one that best fits your needs.
At one end of the spectrum, some coworking space can be old, tired, dark space that hasn't been renovated in decades. It may have few windows, but natural light is at a premium. The furniture is vintage (read: second hand) and not necessarily in the best repair. If there are any offices, they will not have glass on interior walls and when the door is shut, no one will be able tell if anyone is in the office. On a positive note, the offices may be larger than in more modern coworking spaces. The space was once something else and has been rented "as is." Therefore, it is likely not ideally laid out for coworking. There are few, if any, amenities. If there is a kitchen, it's not well appointed. If coffee is provided, it comes from a Mr. Coffee machine. The workspace is likely only staffed intermittently. The good news is that prices are usually fairly low.
At the other end of the spectrum is workspace that is modern, hip, and cool with lots of glass and natural light. It's been built out specifically to be coworking space. There are big, bright, open work cafés with well-appointed kitchens that provide coffee from locally roasted, freshly ground beans. There will be people sitting in the work cafés wearing jeans and shorts in the summer. There are taps delivering locally brewed beer complementary to members in the late afternoon. Offices have glass walls on the hall. Many offices have windows. Light penetrates and permeates the space. They are generally staffed with two or more full time people. There are specially appointed conference rooms with high tech audio visual equipment and many other amenities. These spaces tend to focus on building community and making connections between members. The price will be somewhat higher than the space described in the last paragraph.
There are also more formal workspaces. Think Fortune 500 board rooms filled with mahogany, dark leather, and brass. The space is staffed with, at least, one full time person. These workspaces tend to have larger offices, one or more conference rooms, a receptionist who will answer your phone calls, and a kitchen/break area, but few other amenities. There is little to no community. People tend to go into their offices, close the door and work. If you are an attorney who wears a suit and tie every day and your clients expect this look, this more formal space could work well for you. Pricing is typically comparable to the more nicely appointed coworking spaces described in the last paragraph.
Obviously, these three descriptions are caricatures to some degree. There are clearly variations on these themes. The point is to make sure you find something that has the look and feel for which you are looking, the place where you will be the most comfortable and the most productive.
6. Amenities
Does the coworking space have the amenities you want and need? Coworking providers offer more than just office space. Typically, they provide a wide range of amenities to attract and retain members. The amenities that are most frequently provided include conference rooms of various sizes, internet access via WiFi, a reception area with staff to greet guests, make them feel at welcome, and let you know they are waiting, numerous networking activities, printing/scanning/copying, a kitchen/break area with free coffee, beer taps open to members in the late afternoon, bike storage, and phone booths so that members can have privacy for their calls and not disturb others.
Amenities that are offered less frequently are access to a fully equipped sound studio, showers, wellness rooms for nursing mothers, the ability to install firewalls and other internet security, lockers for storage of personal items, enhanced internet (e.g., 1 Gig symmetrical), free snacks, Kombucha, cold brew coffee, offices with hard wired data ports that can be used to connect directly to the internet for improved speed or for a VOIP phone, and free breakfast/lunch.
When shopping for office space, it is important to be clear regarding the amenities that are available. Make sure you know the ones that are important to you. Once you find a space that has all or most all of the amenities you want make sure you know which of the amenities are included with the membership fee and which are extra. A membership fee that may seem low can grow quickly if, for example, you are charged extra for every page you print and every minute you spend in a conference room.
7. Cost
Not surprisingly, the cost of various coworking spaces will vary significantly. The biggest factors that determine cost are discussed below.
Spaces in Different Geographies
The thing that has the most influence on what you will pay is the city in which the facility is located. Not surprisingly, a one person office with a window in New York City is significantly more expensive than the same office in Richmond, Virginia. With that said, you probably can't do much about the city in which you need space.
Spaces in the Same Geography
Within the same geography things that will result in higher prices when two spaces are compared include:

Spaces that are staffed with two or more people will have to charge more than those who aren't staffed or those that are only staffed intermittently (e.g., one person is responsible for three locations in the same city).
Spaces that spend $150 per square foot on the buildout to create beautiful, modern workspaces will have to charge more than those who take the space "as is" and use second hand furniture.
Spaces that offer more amenities will have to charge more than those who offer fewer amenities.
Spaces in newer buildings in a nicer part of town will have to charge more than those in older buildings in sections of town that are not as nice.
Within the Same Space
Within the same space a seat will cost more or less depending on the following:

Types of Membership – Private offices cost more than dedicated desks and dedicated desks cost more than hot desks.
Number of Seats in an Office – Not surprisingly, a four person office will cost more than a one person office in the same coworking space. However, as the number of seats in the office goes up so will the total cost, but the cost per seat will go down. For example, if a one person interior office costs $500 per month, an interior office that will seat 15 people might cost $4,500 per month. So, the cost per seat is $500 per seat in the one person office, while the cost per seat in the 15 person office is $300 per seat.
Size of the Office with a Given Number of Seats – All else equal, a 6' X 6' one person office (36 square feet) will cost less than the same one person office in a 7.5' X 7.5' space (56 square feet).
Window versus No Window – Of course, an office with a window is going to command a premium versus an interior office with no window. However, it is a bit more complex than this. The quality of the view matters. An office on the 16th

floor with a beautiful view of the river is going to cost more than a third floor office with a view of a rooftop with an HVAC unit on it. The size and placement of the window matters. A floor to ceiling window that covers the entire exterior wall is more valuable than a window that covers only one-third of the exterior wall. Finally, transom windows that bring in natural light, but only allow you to see the sky are less valuable than even a small window with a view.
8. Flexibility
One of the great benefits of coworking is that it offers flexibility. For example, most commercial leases require a commitment to a fixed amount of space for three years, five years or more. Coworking offers significantly more flexibility. Most coworking providers won't ask for more than a one year commitment and many will allow you to go month-to-month for a small premium, if that better fits your needs. Further, if you want to take more space (e.g., move from a two person office to a four person office), most coworking providers will allow you to do that with no penalty.
Reducing the amount of space you have in the middle of a contract period can be more problematic because this will result in less revenue for the coworking provider. If you must leave before your membership agreement ends, most coworking providers will attempt to sell your office and excuse you from the balance of your commitment when they do.
There are other things you can do to create the flexibility to downsize, if necessary, at a lower cost. When negotiating a membership agreement, you can ask for a shorter term (e.g., six months rather than 12 months). You could ask to be month-to-month with no premium or a lower premium, but offer to give more notice of your intent to leave (e.g., 90 days rather than 60 days). If you are going to take multiple offices, you could stagger the termination dates so that you have the ability to downsize at no cost multiple times during the year.
Whatever your strategy, make sure that you get the flexibility you need at the time you are negotiating your membership agreement. Once the membership agreement is signed, you will have very limited ability to improve the flexibility you have.
Clearly, there are many factors to consider when looking for a coworking space. It's important to be aware of these factors so that you don't inadvertently overlook something that turns out to matter to you as you use the space.