As interior designers, we love helping brands design the office space of their dreams. When our office space can simultaneously embody our values and provide for our daily needs, it's a branding win-win.
Whether you're personalizing a new office or you're looking for the perfect office to suit your needs, here are a few tips for creating the ideal space to get work done.
Setting the stage:
First up, consider the functions of your office. Make a note of which items your office definitely needs and what items you can get elsewhere. Jot down a list of the ways you use your office and then think about what elements support those functions.

What types of work gets done in your office?
What other activities or conversations does your office need to support?
Do you need space to spread out and draw?
Do you need a second chair to facilitate in person meetings?
Do you need special lighting or technology?
[Pro tip: Working in a coworking space like Gather means you have access to all sorts of tools and spaces outside your office, so your private space doesn't have to do everything!]
Next, think about what features of your office you want to highlight or minimize. Make a quick list of these office features.

Is there a window you want to position your desk near?
Do you need to face your door so guests can enter and take a seat?
Do you want to highlight a brick wall behind you for your video background?
Create & Iterate:
Now you're ready to sketch out some office design ideas! Don't worry about drawing to scale, just consider prioritizing your functional needs with the features you want to highlight. Start by drawing a plan view of the general size of your office and then add in furniture and large pieces. Try a few different options until you land on an office layout that maximizes your best work. Again, the great thing about working at a place like Gather is that you don't have to fit in every element of your office needs into a small space. You can use conference rooms, the work cafe, and other nooks throughout Gather to supplement your private office.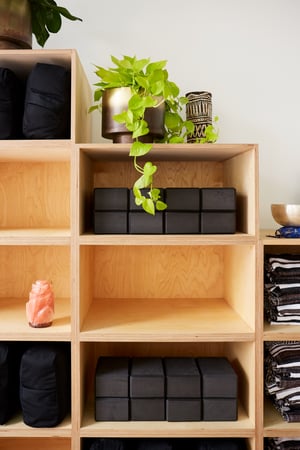 Connect it to your brand:
To finalize the design of your office, you want to think about the overall tone or vibe of the space. Since this is your work space and not just any space, a great place to find inspiration is in your brand. Is your brand personality bold and upbeat? Then perhaps your office wants to feature more vibrant colors or bold accessories. If your brand is refined yet relaxed, maybe a more neutral palette with soft textiles or plant accents are a good fit. Using your brand and its personality traits as a starting point for designing your office details will make sure the experience is cohesive and connected to your overall business. When your workspace sets the right tone, it's a win-win for you and clients.
Perfect the details:
A few final tips to make the most of your office design:
Be intentional with your surfaces (beyond your desk!) – Consider what's happening on your walls, ceiling, and floors. A few well placed pieces of art, pendants, or rugs can really make an office feel warmer.

A place for everything and everything in its place – Take a few extra moments to organize the small stuff. Bins and drawers for supplies, hooks for coats and bags, and cord control can ensure your office is a place of uninterrupted productivity.

Make your tech work for you – Is it easy to dock in and out of your office each day? Get an extra laptop charger so you don't have to mess with cords each day. Make it easy to charge your phone or other devices. Think ahead so in your busiest moments your office supports you and doesn't add to your stress.
Lastly, prioritize your comfort! – Does your tush need some extra cush? (Shout out to Gather's Poppin office chairs, we love them!) What about a laptop stand for better posture? Make your office a place where your body feels as much at ease as your mind!
All images courtesy of Campfire & Co. https://campfireandco.com/