US workers spend an average of 1780 hours on the job annually, according to the Organisation for Economic Cooperation and Development. Thankfully, commercial real estate designers are answering the call for flexible work environments that bring the outdoors to the workers.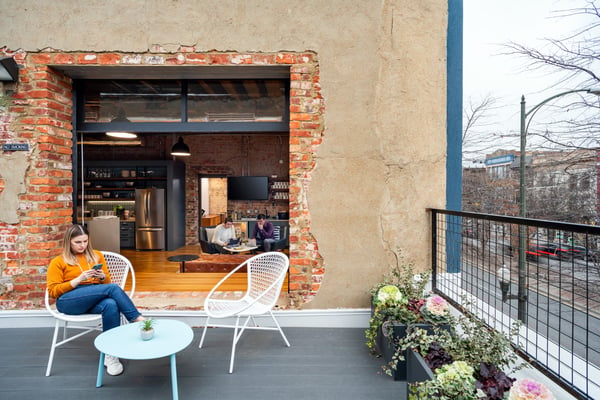 Modern technology has untethered today's office workers. Current workspaces are bringing the outdoors in with increased natural light and flexible work zones. Massive corporations like Amazon, Apple, Microsoft, and Google are leveraging the benefits of working outdoors to improve workers' experiences.
JLL's real estate services' president of projects and developments, Todd Burns, notes, "…building managers and investors are revitalizing spaces with new features, emerging concepts, outdoor spaces, and reworked lobbies…maximizing the ability to seamlessly blend the places where work is done, and where people can collaborate."
Exposure to the outdoors affects our health and wellbeing, productivity, focus, creativity, and the opportunity to collaborate.
Improved Health and Wellbeing
As humans, we have a deep-rooted biological connection to nature. Being outdoors is beneficial for our mental health.
"It reduces cognitive fatigue and stress and can be helpful with depression and anxiety," Irina Wen, Ph.D., clinical psychologist and clinical director at NYU Langone Medical Center, explains.
Harvard physician Eva M. Selhub compares a drop of nature to a drop of morphine:
"It stimulates reward neurons in your brain," she says. "It turns off the stress response which means you have lower cortisol levels, lower heart rate and blood pressure and improved immune response."
A flexible work environment encourages us to get out of the office. Gather Newport News offers outdoor elements in their multitude of large windows overlooking a wooded area and large pond with fountain and waterfowl.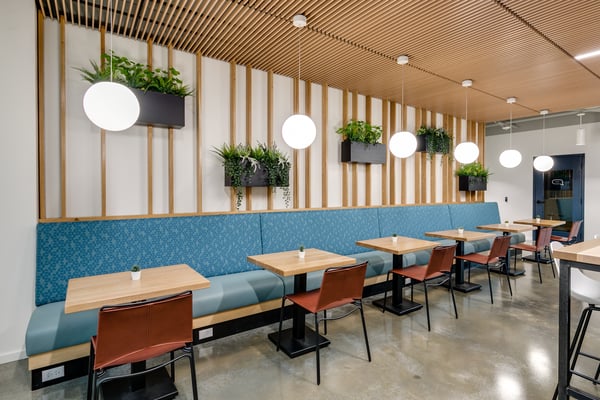 Enhanced Productivity
Research by the Journal of Experimental Psychology found adding one plant per square mile in a workspace causes employees to be 15 percent more productive than without plants. Biophilic design (based on the theory of how humans possess an innate tendency to seek connections with nature and other living things) improves employee productivity.
Productivity can also be enhanced if the outdoor space offers an area that encourages collaboration, creating synergy in the workplace. Gather Art's District in Richmond offers two rooftop decks overlooking Broad Street. Gather Newport News features walking paths that wind throughout nearby amenities.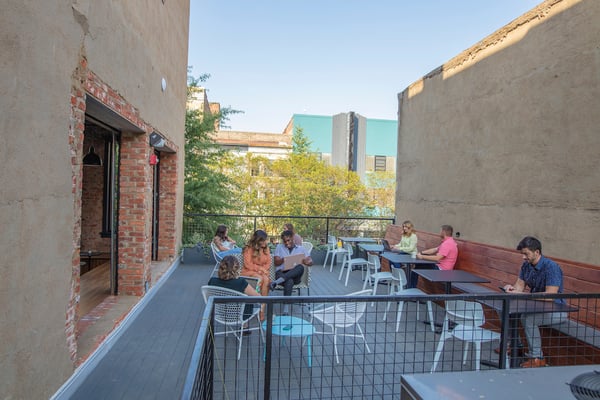 Improved Focus
Research from the University of Michigan found that walking in a park such as Gather Norfolk's nearby Town Point Park, a beautiful waterfront park anchored by attractive fountains, restores focus and relieves mental fatigue.
Many of the world's greatest minds maintained a walking routine to focus on new ideas and inventions. Charles Darwin walked his thinking path contemplating his famous theory of evolution while observing nature. Ludwig von Beethoven took long walks carrying a pencil and paper in case inspiration struck. Nikola Tesla used to walk ten miles daily for inspiration.
Even viewing pictures of nature help improve both memory and attention span. Working out of Gather's communal space or private offices enhances the ability to focus.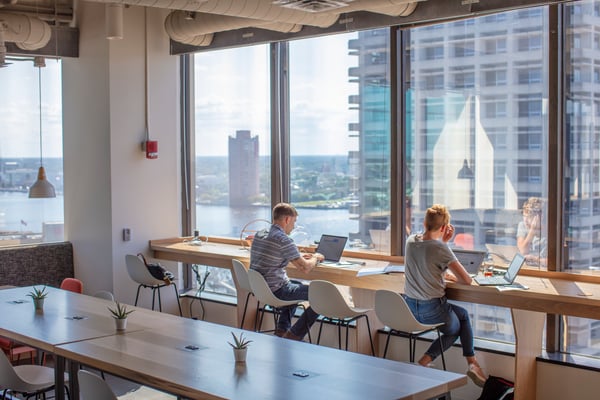 Increased Creativity
According to Leigh Stringer, author of The Healthy Workplace: How to Improve the Well-Being of Your Employees—and Boost Your Company's Bottom Line, humans are meant to be outside.
"When you step outside to work, creativity flows naturally," he explains. "Instead of being restricted by ceilings and walls, you have the wide-open sky. That can be extremely powerful for brainstorming."
Being outside can be a reminder of childhood play times. Outdoor spaces offer a natural and informal setting that energizes and opens up our childlike creative selves.
Maximized Collaboration
Coworking spaces that offer outdoor lounge settings, high-top bar tables and open air environments help workers transition from stuffier office settings to a cozier space. By providing plenty of communal space for chance encounters, employers spur unexpected collisions and collaborations, according to DeepRoot Green Infrastructure headquartered in San Francisco. By creating shared space where employees can work with partners, consultants and customers, a shared sense of community emerges…and with it, innovation.
Public communal areas can increase the chance to form links with others outside their core workforce. Gather Short Pump's coworkers take advantage of the picnic tables in the median park outside their building to eat together and collaborate with other Gather members outside of their organization.
Taking Advantage of the Natural Environment
There are a variety of ways to make the best use of available outdoor workspace: hosting meetings outdoors instead of an indoor conference room, "walk-and-talk" meetings, and taking your laptop outdoors to work at a park, outdoor cafe or your workspace's patio can provide the mental stimulation required to get through the day. A patio area with tables, chairs, umbrellas, Wifi and power outlets is all you need.
Dine al fresco. Lunchtime is a great opportunity to grab a breath of fresh air. When coworkers share a meal together, it creates bonds; even more so when they eat in a relaxing outdoor space.
If you can't get outdoors during the day, plants in your workspace or a view of green spaces can improve mental function. Gather coworking locations incorporate natural elements such as stone, wood and plants to bring the outdoors in.
UChicago's Environmental Neuroscience Lab Assoc. Prof. Marc Berman, a leading expert on how environmental factors can affect the brain and behavior, says that even videos and sounds of nature can provide some gain.
Modern technology has broken down the division between indoors and outdoors for today's corporate culture. "Outside" is no longer just a pleasant landscape backdrop, but a more purposely programmed and useful space."