Coworking spaces have become a popular option for many professionals. Advantageous pricing and flexibility, along with plenty of other benefits, drive interest towards coworking spaces.
Coworking is a great option, especially since its features empower your team to ensure maximum productivity. Keep reading for tips on how to successfully empower employees in coworking spaces.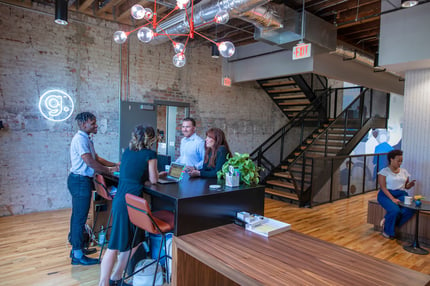 1. Educate on the coworking space
Education is key. To help your team members feel empowered and up to their full potential, educate them on the features of coworking spaces. Many of the best coworking spaces have amenities like state of the art printing, conference rooms, 24-hour access, and community events.
At Gather, our members get the most out of their membership. We inform our community of our offerings, such as podcast booths, phone booths, and outdoor workspace, so that they feel equipped to make the most of their membership.

2. Create inviting workspaces
Another effective way to boost the morale of your employees is to create pleasant and enjoyable working environments. A workspace that is fresh, clean, and free of clutter can go a long way with your team's workflow.
Further compliment the workspace with ergonomic tools and furniture that will benefit your team's efficiency and wellbeing. Subtle but significant perks like these provide an added advantage to your workspace.
3. Introduce your team to the coworking community
Another valuable feature of working in a shared office space is that you have ample opportunities to meet professionals from industries both similar and different from yours. We recommend taking full advantage of these business opportunities by introducing yourself and your team to the surrounding coworking community.
You never know–you might just meet your next client or create your next partnership in a Gather coworking café.
4. Set goals and communicate clearly
Setting clear goals and expectations helps to support team members with executing tasks and managing their day to day responsibilities. Clear expectations aid in minimizing miscommunication and promoting a sense of focus–a quality that's incredibly important to your workflow.
5. Host and attend community events
A well-maintained balance between productivity and leisure is an important part of Gather coworking spaces. We plan events to give opportunities for members to unwind from their daily grind and develop real connections with others.
At Gather, our events are specially designed to empower our members to prioritize a healthy work-life balance, whether it be Cookie Hour or Happy Hour.
Take advantage of the best coworking spaces in RVA and 757
Whether you are a solopreneur or manage a large team, it's critical to nurture a strong sense of empowerment within the workplace. So if you're looking for the best coworking spaces in Hampton Roads, VA or Richmond, VA, we recommend booking a tour with us today!