In recent months, the workforce has seen many changes. With the sharp rise in remote work and online meetings, many aspects of traditional coworking spaces have changed. It's no wonder why they've become so popular, especially given its benefits of decreasing overhead cost, increasing efficiency, and boosting productivity.
The best coworking spaces cater unique amenities to a wide array of professionals from many different backgrounds. So, which amenities set Gather apart from other coworking spaces?
Roll up an office chair and let's find out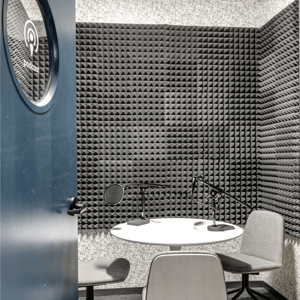 Podcast Booths
Do you have a message to get out to an audience or your professional network? A podcast may be the perfect avenue! At Gather coworking spaces, we provide you with the means to get started and the tools to get it done. Our soundproofed podcast booths are fully equipped with all the essentials you need, from high-quality microphones to acoustic foam panels.

Indoor and Outdoor Space
Many of the best coworking spaces provide luxurious indoor space, yet lack the ambiance of outdoor space. There are many benefits of an outdoor workspace such as increased productivity and creative inspiration. Through providing indoor and outdoor space, conference rooms, and coworking cafes, the locations for working are diverse. This extra attention to detail is what sets Gather apart from other coworking and office spaces.
Snacks and Beverages
Snacks and beverages are essential to elevating your mood and avoiding the dreaded afternoon slump. Gather workspaces include coworking cafes stocked with local cold brew coffee, beer on tap, refreshing fruit-infused water, and weekly snack events like Cookie Hour. While you enjoy tasty snacks and beverages, you can rest assured that you're supporting the surrounding community and local businesses.
Wellness Rooms
Do the most productive thing at any given time. Your productivity is of the utmost importance, but your health and wellness should always come first. That's why Gather workspaces provide wellness rooms. Our wellness rooms are available not only to nursing mothers, but also to members seeking a place to relax and unwind from the hustle and bustle of the workday. After all, you owe it to yourself to feel your very best at work.
High-Speed Internet
Last but not least, the foundation behind the best coworking spaces begins with reliable, high-speed internet. No one enjoys getting dropped off their virtual meeting, or even worse, abruptly losing their hard work in a mere instant. At Gather, we understand just how essential it is for our members to have reliable technology at their fingertips. Our team takes the extra steps to ensure your work experience is empowering and uninterrupted.
The Best Coworking Spaces Require Attention to Detail
The best coworking spaces offer unique amenities that accommodate the needs of every member. At Gather, we go the extra mile to provide all the amenities, resources, and atmosphere needed for a successful work experience. Schedule a tour at one of our locations to experience the excellence of a Gather workspace.