Amazon. Salesforce. IBM. What do all these businesses have in common? These are just a few of the enterprises that have adapted to the flexible workspace model in recent years.
As the way people work continues to evolve, the traditional office space has no chance in the face of today's more flexible workspaces.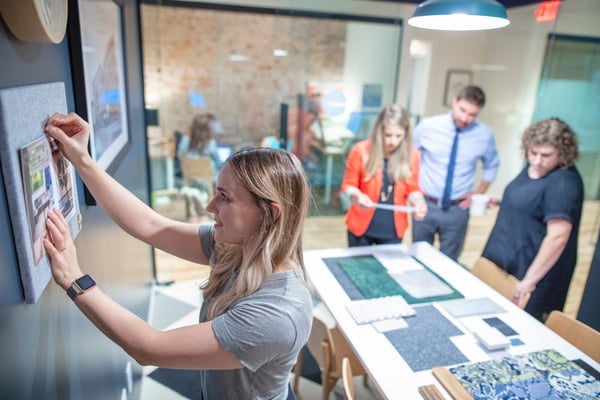 There was a time when the traditional office was held up as the epitome of productivity: occasionally, companies allowed some employees to work from home, but there was never a middle ground. The black-and-white choice of office-based versus remote working began to change when the benefits of flexible workspaces became apparent.
"What we're seeing now is a re-evaluation by organizations of their office strategy," says Paul Salnikow, Founder and CEO of The Executive Centre (TEC), Asia's largest provider of premium flexible working spaces. "The current market uncertainty is creating a huge demand for the flexible workspace sector as companies try to manage costs and become less willing to commit to long-term leases" (Forbes, 2020).
Technology and amenities for your team
Investing in your own office not only requires that you purchase furniture, desks, chairs and life's essentials, but it also means investing in the proper equipment and amenities that your team needs to conduct business and be successful - printers, conference rooms, coffee machines, refrigerators, security systems and more. These essential amenities are provided in flexible workspaces so that you need not worry about maintenance and care. Coworking and flexible workspaces put a lot of thought into their design and amenities so that you don't have to, making it easier for a leader to focus on other profit-generating tasks.
A cost-effective approach to a scaling business
"Everyone wants to grow their business but it's difficult to predict exactly how that's going to happen. Partnering with a flexible workspace is a financially responsible way to allow your business to grow in unpredictable ways," says Paul Salinikow (Forbes, 2020).
Forbes provides a compelling illustration in their article, "What is The Future of Work? Why the World's Biggest Companies Are Turning to Flexible Workspaces.":
— As an illustration, a company renting a 30-person office has a goal of doubling its workforce to 60 within six months. But it is by no means certain that its ambition will be realized – there's a chance, of course, that its workforce could shrink – and so signing a lease on a 60-person office makes little sense. A flexible workspace allows you to pay for 30 people now, and when the number climbs to 40 people, and then 50, you add additional workstations. Moreover, with flexibility, a company generally commits only to a one-to-two-year lease, whereas traditional office spaces generally demand a three-to-five-year lease. The risk, therefore, of committing to a larger floorplate to accommodate for anticipated but uncertain future business growth is mitigated. —
Employee satisfaction
Here's the reality. Employees had no choice but to work remotely at the start of the pandemic which ultimately opened a world of possibilities for the employee and employer. Employees could work from home, save time and money by eliminating their commute, and spend more time with their families. In response, employees rethought their work environments and employers found solutions to meet these demands.
Many employees have realized it's not necessary or even beneficial for them to work 100% in-person (TINYpulse, 2022). Due to this, businesses had to rethink their workplace, resulting in the rise of flexible workspaces.
The flexible workspace model has helped businesses that have trouble engaging and satisfying their employees. There have been a number of studies that have shared results regarding employees working where they want:
There is less burnout among employees
The employees are more dedicated to their jobs
Employees have the ability to balance work and life
"Work Culture Reimagined" with Gather
Dedicated employees will make better employees because they will be loyal to your company. In order to maintain a positive company culture and to keep finances healthy, organizations should invest in retention. And, with the current economy, it's in the business' interest to make the change to flexible workspace conditions.
Think of Gather when you choose to shift to the flexible workspace model. Our coworking spaces are specifically designed to allow employees to flourish. For medium to large organizations, joining a flexible workspace like ours has benefits ranging from improved agility to increased visibility and productivity.
We don't speculate. Members tell us through their feedback how much value they receive from our workspace.
If you are looking for a new workspace for your team and desire a "work culture reimagined" for your business, please come meet with one of our community managers at one of our 7 locations in the Richmond or Hampton Roads area. We'd like to take you on a tour of our facilities and share with you the benefits of the flexible workspace model.