Small businesses are increasingly relying on freelancers to fill the gaps in the labor market created by the Great Resignation. This trend aligns perfectly with the current flexible work zeitgeist and is enabling employers to rethink overhead budgets and office space management. At Gather, we recognize the growing band of versatile workers, and we are here to help businesses tap into this new resource of agile workers.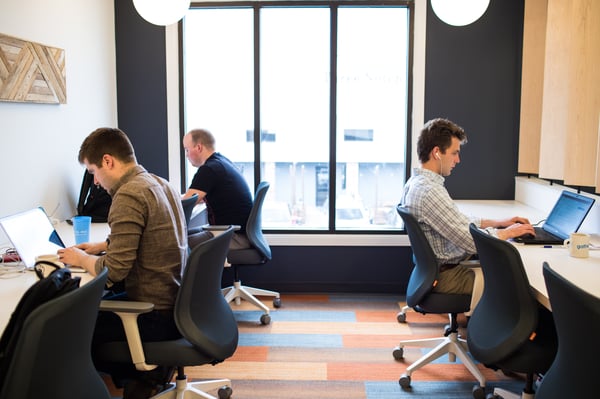 According to Upwork's Freelance Forward 2022 survey, freelancing has hit an all-time high, with 60 million freelancers in the US alone, representing 39% of the entire workforce. The pandemic has led people to re-evaluate their work priorities, resulting in the 'Great Resignation' phenomenon, where individuals walked out on their traditional jobs in search of more flexible and fulfilling work arrangements. Freelancers allow individuals to work from anywhere, from a café in Guatemala to a steamy Icelandic lagoon.
Upwork reports that while freelancing is often associated with creative industries, such as design and writing, it is actually accounting, IT, operations, and customer service that are the most in demand. At Gather, we understand that freelancers are a great fit for small businesses and start-ups, allowing them to expand and contract in response to the demands of specific projects and parachute in people at short notice. With our flexible workspace solutions, businesses can hire extra desks for a while or book big rooms for collaboration, depending on the project's needs.
Why are flexible workspaces the best fit for freelancers?
Freelancers, like all employees, benefit from having places to work, space to collaborate with team members, and colleagues with whom they can engage. Flexspaces are designed to be inspiring and sociable, providing freelancers with the opportunity to connect with others and understand the company culture. Our flexible hubs provide a cost-effective solution, with offices in iconic buildings and local neighborhood hubs close to home. At Gather, we understand the importance of moments of connection and encourage businesses to go for walks or have lunch with their freelancers to help them feel a sense of belonging, even if it's fleeting.
Flexible working isn't just about being at home or at the office; it's about being flexible in all respects. This agile, responsive working style can lead to meaningful financial savings, helping small businesses to move with the peaks and troughs of workflow. We believe that flexspace and freelancers are the perfect union for companies that want to be agile and responsive to markets and workload.
Tour one of our seven Gather locations.
What else makes Gather the best place to cowork and rent office space? Not only do we help our members broaden their network, but we also help them to deliver on a human-centric approach to employee experience and engagement. So, are you looking for private office space or coworking memberships for you and your team? Gather provides various workspace solutions for the growing business.