With the opening of Gather Midlothian earlier this month, we decided to take a look at what the best places to hang out in the area are.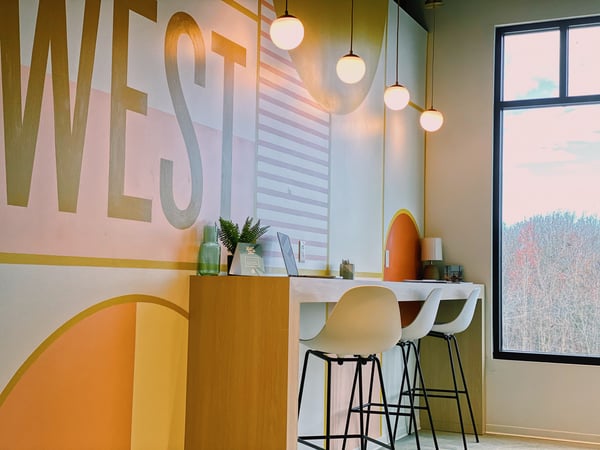 While Midlothian may have a reputation for being suburban, the area is quickly transforming. Not only has Gather decided to plant ourselves there, but plenty of other local businesses that once called downtown Richmond their exclusive home have too. Between that and the mainstays of the area that have left a worthwhile impression, Midlothian has more to offer than what you might have previously imagined.
To help get acclimated to what's in the area, we decided to put together a short guide on where to eat and hang out around Midlothian. By asking fellow Gather members what their favorite spots are, we were able to compile what we feel like encapsulates some of the best options surrounding our new neighborhood. Here's what we've learned:
Where To Eat
Midlothian's food scene is on the come up. According to a few of our members, here are some of the top choices:
The Shaved Duck
A popular choice for dinnertime, The Shaved Duck's from-scratch kitchen was noted as a premiere pick amongst those familiar with Midlothian's food scene. With meals ranging from $15 to $30, their bistro-style menu includes items like steak, duck leg, pork loin, duck breast, and smoked cioppino. An overall favorite for quality and taste, The Shaved Duck adds a level of touch to their food fans' love.
Tazza Kitchen
As a regional chain that was founded in Short Pump, Tazza Kitchen's wood-fired cooking is easily a favorite.
Perfect for a quick lunch or event catering, Tazza Kitchen has plenty of options. With many of their lunch items under $15, they offer some solid favorites without breaking the bank. Additionally, their dinner menu isn't too shabby as well, hosting some interesting takes on classic, hearty plates. Finally, if you're really in a rush, Tazza also offers a 'Take + Bake' section, which has a few different housemade frozen burritos and a chicken tortilla soup.
Pescados
With a name like Pescados, you can bet they do seafood right.
Serving an array of Caribbean-style dishes, their menu is lively for both lunch and dinner. However, if seafood isn't your thing, Pescados also has burgers, tacos, sandwiches, and quesadillas. With affordable prices, Pescados is an excellent choice.
Hang Space
Arguably a favorite for best vegan kitchen in the Richmond area, Hang Space is unapologetically comforting.
Not only is everything on their menu less than $10 but it's all delicious classic, American kitchen items like hamburgers, fried chick'n sandwiches, and even fishless fish sandwiches. Although they're only open Thursday through Sunday, their regular items and specials are some that even meat-eaters develop cravings for.
Sedona Taphouse
While a national chain, Sedona Taphouse is a solid go-to for a big menu and solid food. Known for their weekly specials, Sedona Taphouse offers an $8 steak on Mondays, as well as half off beer during happy hour and $5 craft cocktails. Hitting every benchmark for consistency, Sedona Taphouse is nothing to sleep on, providing value with every bite.
What To Do
Beyond the food scene, the entertainment options around Midlothian has been steadily growing as well. While you might have to still venture downtown to catch a show or live performance (post-COVID, of course), there are a few noteworthy activities still within Midlo. Between what's already there and what's on the way, we're excited about what's happening south of the James. Some highlights:
A New Surf Park Is Coming
What's being called 'the world's largest surf park', The Lake is coming to Chesterfield by the Fall of 2021. This is more than just an exciting attraction to blow off some steam, but a tourist destination as well. Considering the success of surf parks across the country, this addition to the area will also bring more retail, dining, lodging, and entertainment, providing an anchor that could completely transform both Chesterfield and Midlothian.
A Casino Might Be On The Horizon Too
In August, the Pamunkey tribe purchased land in nearby Manchester for $4 million, hoping to bring a casino to south Richmond. Although expected to be within the city limits, it's already started to generate buzz as a regional attraction. With a vote anticipated to be on the ballot next year, this could be an interesting development to keep your eye on.
Breweries Are Abuzz
Although it's not as large as in Scott's Addition, Midlothian is growing their brewery scene. Already including the likes of Steam Bell Brewing, another addition to the neighborhood will be Triple Crossing, which will be their third location beyond downtown and Fulton Hill.
Parks And Recreation
If you're looking to get out and about, Midlothian's Mid-Lothian Mines Park is a 44-acre location with plenty of trails and woodland. As one of the first major industrial sites in the US, the blend of history and natural beauty is quite a bit to take in. A gem for the area, Mid-Lothian Mines Park is a must for anyone looking for a quick getaway. Another fun spot is Windy Hill Sport, which is a sports complex with two nine-hole golf courses, mini-golf, go-karts, and batting cages. With fair pricing for their activities, this is a good go-to for post-work entertainment.
Why Gather Midlothian?
We couldn't be more thrilled that our newest location is in the middle of a surge of exciting developments. Considering that Midlothian is complete with all the luxury amenities of the other Gather locations, we're excited to bring our offerings to the southside, as well as be a part of the growing Winterfield Crossing community. And if you're interested in seeing what Gather Midlo has to offer, feel free to contact our community managers to set up a tour.