Most experts believe that coworking and flexible workspace models will outperform traditional office space in the new year as more companies embrace hybrid work patterns.
Gather believes the same. We feel the shift with our members and the evolving need for agility, flexibility and experiential workplaces. So how do we know this demand for flexible office space will only continue to increase? It's in the most recent 2022 reports.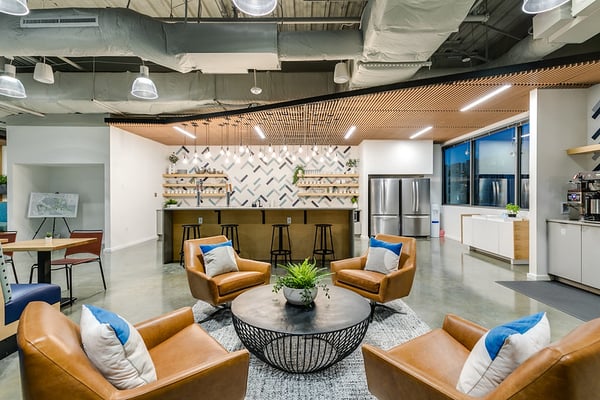 There is a lot of discussion in the real estate community about the potential economic downturn that is expected next year. It is evident that some sectors will be adversely affected more than others, but experts are optimistic that the coworking sector will not be affected.
In fact, President Jason Anderson of Office Evolutions says that economic instability will push the already high demand for flex office spaces even further, mainly due to companies not willing to commit long-term when the economic environment is unstable (Commercial Property Executive, 2022).
What does the real estate industry say about the flexible workspace model?
CommercialEdge senior manager Peter Kolaczynski is convinced that companies will reduce their traditional office footprints and turn to hybrid or coworking solutions instead, especially in tech industries that are undergoing massive job cuts. A coworking space allows companies to close short-term deals, and easily expand or contract when needed.
The majority of flexible workspace providers plan to grow their portfolios in the coming year. For example, Commercial Property Executive tells us that Industrious plans to add 1 million square feet of flexible office space in 2023, focusing on low-commute, mixed-use submarkets.
While businesses struggle to gain a solid footing on their revenue projections and their workspace model, they are finding solutions with the help of flexible office space in the new year. Simply put, employers want more flexibility with their lease terms, and employees are learning how to operate in a new "hybrid work model" all at the same time. "Hybrid work adoption, talent strategy, and economic pressure are the top drivers for adoption," said CBRE Americas Agile Practice Leader, Christelle Bron (Commercial Property Executive, 2022).
What can we learn from the Chicago market about the surge in flexible office space?
Despite a small decline in demand for flexible workspace earlier this year, Chicago-based researchers find that larger users - those needing 25 or more desks - are showing renewed interest in coworking and serviced office spaces.
Demand for flexible workspace in Chicago metro was expected to decline 14% between 2021 and 2022, amid a huge reshuffle surrounding hybrid work and the return to the office. However, according to the findings provided to Bisnow from The Instant Group, (which bills itself as the largest global marketplace for flexible workspace with clients like Prudential, Booking.com and Shell) fell short of their projections in the second half of the year (Bisnow, 2022).
Chicago has turned the heat up on the demand for flexible workspace with an increase of 5% in the second half of 2022 compared to 2021. The number one driver is said to be large companies attempting to offer more accommodating working conditions:
—"Companies wanting to give employees more flexible options that don't require them to commit to a full office return is one of the factors driving demand," The Instant Group Chief Client Officer Emily Watkins told Bisnow. "Companies are evaluating their current office utilization to determine how much space they will need. Leveraging flexible office spaces enables organizations to flex up and down as needed." —
Gather prepares for businesses switching to a more flexible workspace in the New Year.
The flexible workspace model has helped businesses that have trouble engaging and satisfying their employees. There have been a number of studies that have shared results regarding employees working where they want:
There is less burnout among employees
The employees are more dedicated to their jobs
Employees have the ability to balance work and life
Take a look at our workspace solutions to learn more about what might be the best fit for your company's needs.
If you are interested in learning more about our office space or dedicated desk options, please consider taking a tour with us at one of our locations.
If you are interested in getting started with a coworking or pay-as-you-go membership, you can shop online and secure your membership today.