Gather provides you with the right amount of space for the right price, whether you're an enterprise level team in need of ample private office space or a solo-prenuer looking for shared office space. We go above and beyond to make sure our members get the most out of their membership–whichever workspace solution you opt for!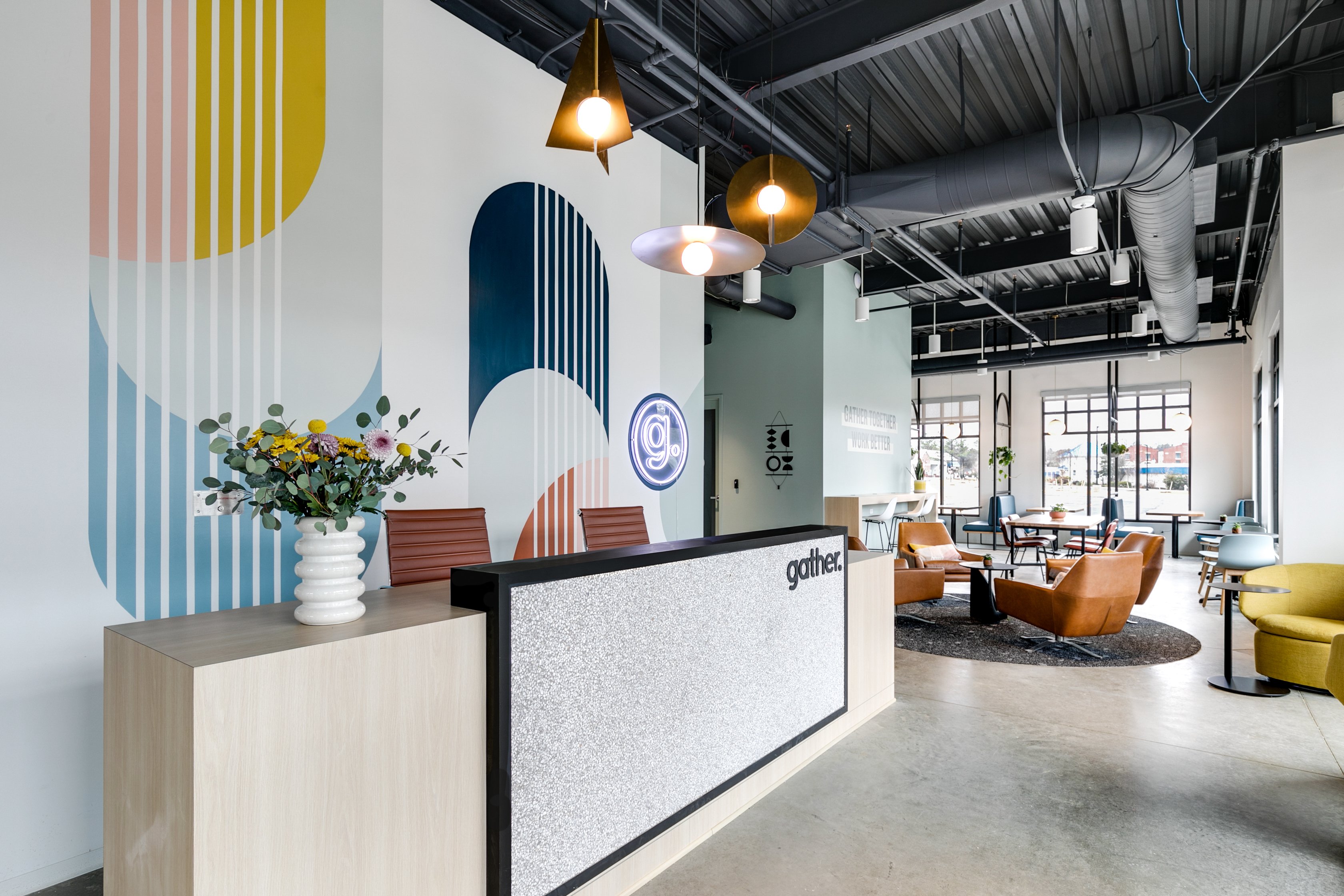 About Gather Private Offices & Workspace
We believe that your workspace should be about more than just deadlines and coffee. It's about the people and the opportunities that add value. It's about your productivity, your goals, and your future. It's about knowing that you've elevated your business and will do it again. It's time to deepen connections and make daily moments matter more. It's time to accomplish your purpose, and fret less about logistics–all while making work life more enjoyable.
Gather has 7 office spaces in Richmond, VA and Hampton Roads, VA. Explore our locations below and keep reading to discover the many solutions and perks we offer our members!
1. Dedicated Desks
Our dedicated desks give you all of the benefits of the shared space, with an added level of permanency and personalization. This is a great stepping stone to those anticipating business growth but unsure of private office needs. Store your personal belongings, set up double monitors, and make your space your own.
2. Standard Office Space
Some businesses are in need of additional privacy and customization that goes beyond a dedicated desk. Gather provides private office spaces ranging in various sizes for the individual, small team, or large workforce. Be your own brand in the midst of an intimate business community. Access all membership benefits and work with one of our community managers to tailor your workspace experience.
3. Office Suites
We accommodate teams of all sizes. Similar to our standard office spaces, office suites accommodate larger teams that need multiple offices next door to each other. With additional personalization, Gather can section off your spaces and create an environment for effective team collaboration, all possible within our existing build.
4. Coworking
Not in the market for a private office space but need a workspot away from home? Plug into our coworking membership and have the resources you need to propel your business forward and drive productivity. Secure a Gather coworking membership and gain access to our facilities and coworking benefits across locations. Private and open spaces are provided, as well as conference rooms and community events.
5. Pay As You Go
Work at Gather spaces for a minimal $80 per month rate during normal business hours. The Pay-As-You-Go Membership provides you the flexibility to take advantage of our coworking spaces, phone booths, daily office rentals, and conference rooms–all possible by using our a la carte menu. Great for individuals like yourself, on-the-go wanting the security of a workplace to use throughout your busy schedule but not needing to use amenities all of the time. Spend your credits as you see fit, and gain a new business community motivated to grow and thrive just like you.
Looking for office space near you?
2022 is coming quick and there's no better time to make the move into your new workspace in Richmond or Hampton Roads. Schedule a tour to get started today!