Newport News' Tech Center is 100 acres of mixed-use development which encompasses a hybrid concept that brings together the very best of neighborhood living, retail, recreation, dining, and office space. It's a place for the community to come together, exchange ideas, encourage innovation, and collaborate. Not only is it a centralized hub for everything you need, it's also created more than 5,500 new, high-level jobs and is carrying an economic impact expected to exceed $28 million!
Keep reading and discover more about the role of the Tech Center in Newport News and how Gather private offices and coworking space contributes to its mission.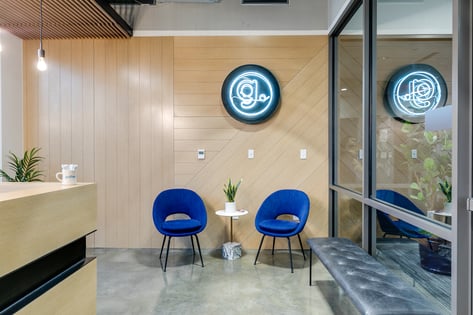 About the Tech Center
So, what all comprises the Tech Center's $450M dollar investment? Let's get into the details.
The Tech Center is home to an expansive research park (which we'll dive into) and boasts 250,000 square feet of retail space housing 285 high-end residential units. Most importantly, the Newport News tech center is a utopia for professionals working in the area who want to take advantage of a centralized space with everything they need within walking or biking distance.
The center also features many retail shops, hair salons, spas, and restaurants, not to mention the green space and health-conscious atmosphere. The entire Newport News community also enjoys venturing into the retail section of the center that has some of the best shops, spas, hair salons, and restaurants. Not to mention, the green space and health-conscious atmosphere.
Tech Center Research Park
Occupying 50 acres of the Tech Center is the Tech Center Research Park, where you'll find world-class businesses, upscale apartments, shops, restaurants, entertainment, and healthy living.
It's located a short, 7-minute walk away from the Thomas Jefferson National Accelerator Facility, which is only 1 of the 17 national science labs funded by the United States Department of Energy! Being nearby such a prestigious lab, the area is destined to attract many like-minded and innovative business professionals.
In a place with so many business professionals, they'll need a spot to work! The Tech Center Research Park offers nearly 1 million square feet of office and lab space to meet the needs of both small and large high-tech companies. With successful people come successful projects and at Gather, we're excited to be a contributing part of all of the amazing things to come out of the research park!
Gather private offices and coworking space in Newport News
Gather Newport News is proud to support the Tech Center's goal of nurturing and expanding innovation through providing the space for idea generators to make things happen.
Our office space for rent in Newport News helps businesses, both large and small, reach their full potential. We also love to show our support for local businesses in Hampton Roads! It's inspiring to see the amount of potential that the Tech Center brings to the area, along with the highly educated and creative workforce it attracts!
Need a private office or workspace in Newport News?
Schedule a tour at Gather Newport News coworking and private office space. You'll be well on your way to your next big idea!