If you think through all the places you have worked, you will likely notice that they all have one thing in common: They are all very different. From company culture to physical location and in-office perks, there can be tremendous variability in working conditions, including the size and type of office space the business requires.
In our experience, we find that the following questions help to identify the type of workspace and size needed by new companies:
Do you plan to scale during the duration of your desired lease term? If so, what is your projected headcount?
How many, if any, of your staff members will need private offices?
Do your employees frequently hold meetings? What is the typical meeting size?
Will you need a full kitchen?
How much common space will you need for breaks, meals, or lounging?
Will you need any other types of spaces, such as reception areas, storage space, etc.?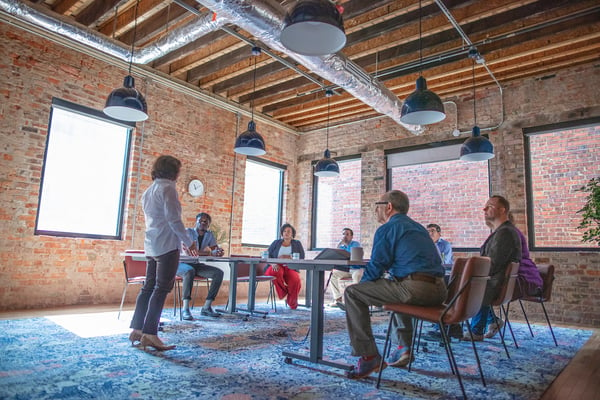 If you are a business owner looking to upgrade your office space, the first thing you will want to do is determine exactly how much space you will need to comfortably cater to yourself and your employees. There are guidelines pertaining to square footage for head counts in the workplace, but really, there are no hard and fast rules.
How to determine the amount of office space your team needs
Consider your employment numbers now and in the future. As a general estimate, you will want enough space for each employee to have their own workspace and for shared spaces like conference rooms, break rooms, and other amenities. Think through how many people you employ both now and in your busiest time of year to get a good estimate.
Think through the office layout that suits your company. Every company culture is different, and as such, the ideal office layout will be different, too. Some companies have a culture of collaboration and openness, making a flexible, open office layout ideal. Other companies may prefer a cubicle or solo office structure, which will lead to more individual workspaces being required.
The great thing about Gather
As a member of Gather, you only pay for what you need, so you don't have to worry about making room inside your office for break rooms, bathrooms, kitchens, conference rooms, and podcast sessions. You can focus on the important things to grow your business, without having to worry about the facilities that come with a traditional office space.
Whether you have determined your office space layout and needs, or you are looking for a professional to help you plan that out, Gather can help. We have an experienced team that can navigate you through the process, providing you with support and detailed breakdowns of our workspace solutions. Some of our most popular solutions offer customization and membership perks that make your employees' experience all the better.
Dedicated Desk: Benefits of a shared space with an added level of permanence & personalization. Dedicated desks are great for smaller teams or remote workers needing to store personal belongings but not needing private space.
Private Office Space: Be your own brand in the midst of a business community. Private office space is the best solution when evaluating square footage per employee. It's a place to call your home and offers privacy from other members.
Office Suites: Custom-arranged solutions for larger teams. This is a great solution for a large team that may need the perks of open space for group collaboration and individual private offices.
Coworking: Plug into the Gather community and gain new amenities at your fingertips. Are you a hybrid team? Wanting to work around other motivated business owners? Coworking gives you all the perks of working in an office (conference rooms, kitchens, printer/fax) without the commitment of private or dedicated space.
Pay-As-You-Go: Pay for what you use on an as-needed basis. Are you on the move? Need a place to land but not ready to commit to a larger membership? This is a great plan for the traveler or to simply get your feet wet in the flexible workspace model.
How much office space does your team need? Tour one of our seven Gather locations to find out.
How much office space does your team need? Tour one of our seven Gather locations to find out.
Gather is the best place to cowork and rent office space. Not only do we help our members broaden their network, but we also help them to deliver on a human-centric approach to employee experience and engagement. Our community managers will walk you through our workspace solutions and show you around the space.