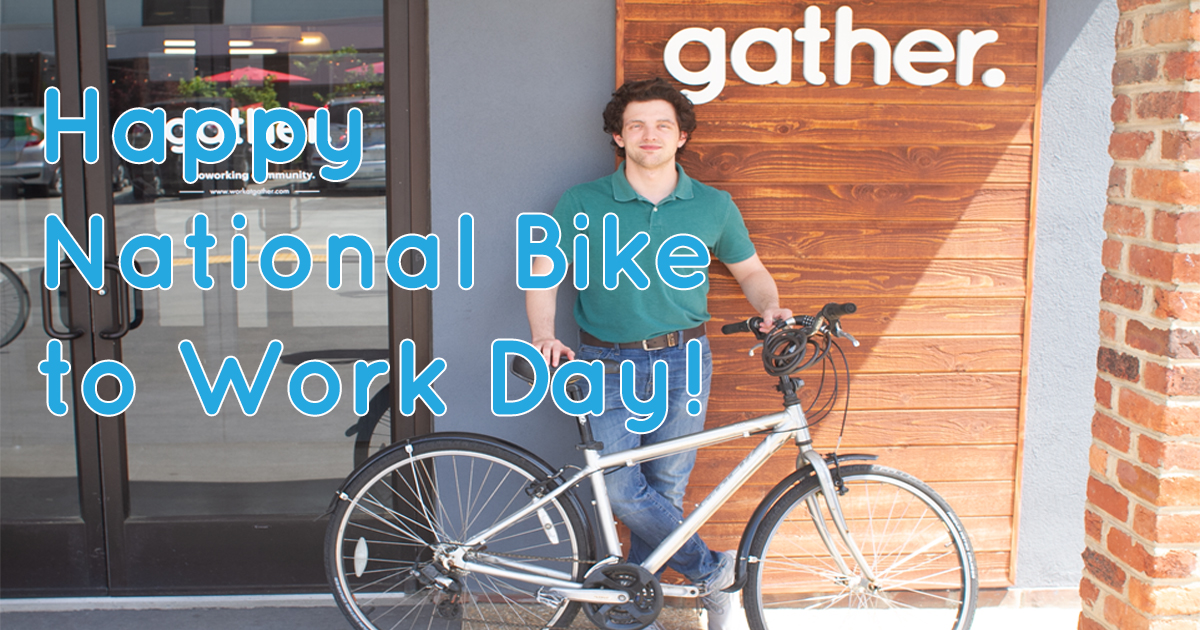 We're fortunate to live in a bike-friendly city, and we're proud that some of our Gather coworkers choose a bicycle as their mode of transportation to and from work. Today is National Bike to Work Day! Do you ride to work? Have you ever? While, in this writer's opinion, Richmond bike lane choices can be a bit limited in terms of options for commuter transportation, there are resources one can consult for their ride around town to get to and from work. Whether you're riding part of the Canal Walk west toward our Downtown location, or you're taking Leigh St (and its bike lanes) to our Scott's Addition location, or any other number of options, it's possible to formulate a bike route that's comfortable for you and, most importantly, makes you feel safe. Please consult this map of Richmond bike paths that was created by local cyclist/pedestrian safety advocates Bike Walk RVA.
To get a better feel of how people ride to work, we figured we'd interview some of our coworkers who often arrive by bike.
Coming from Malvern Manor at the corner of Cary and Malvern west of the Museum District, coworker Tom White of International Paper goes up Malvern to Grove and takes the Grove "sharrows" until he takes a left on Sheppard. He takes Sheppard right up to Broad, crosses the street, and *poof*, he's at Gather.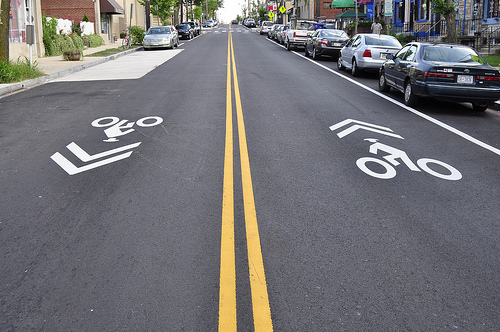 We asked Tom how he feels about the safety of his ride and he said that overall he feels comfortable with his ride on Grove Avenue, and mentioned, "It's nice to cross Broad at a street light." Good advice and we definitely agree, Tom! Due to a tire problem today was one of the rare days he could not ride his bike to work, but here's a photo of Tom working out of his office upstairs in the Scott's Addition location.
Talking to Evan Hilton of Splash 4 Partners, he says that he leaves from the Museum District near the corner of Kensington and Belmont. He hops on Belmont and heads north. We asked him if he had any tips for a safe commute and he mentioned, with a bit of a wink, that "On some days you look both ways before crossing a one-way street."
Prabir Mehta of The Great Big Everything also joined in on the Bike to Work Day fun, and we caught up with him about his route to Scott's Addition from his home in Jackson Ward. He said that he takes Leigh St and then heads south for just a bit on Myers St. Rather than crossing Boulevard on his bike, he actually walks his bike across, and with that comment offered very compelling advice. He walks, rather than biking the remaining few blocks to Gather Scott's Addition; and before crossing Boulevard he said that he uncuffs his pants, straightens out his helmet hair, takes a look at himself with his phone to make sure he's ready to walk into Gather and tackle the day. This can be a great way to remedy walking into work (or any social situation) with cool & calm, rather than coming in all amped up from a wild bike commute!
Thanks for joining us for this celebration of Bike to Work Day, and when you're riding to Gather always remember to ride hard, ride fast, but most importantly... ride safe.