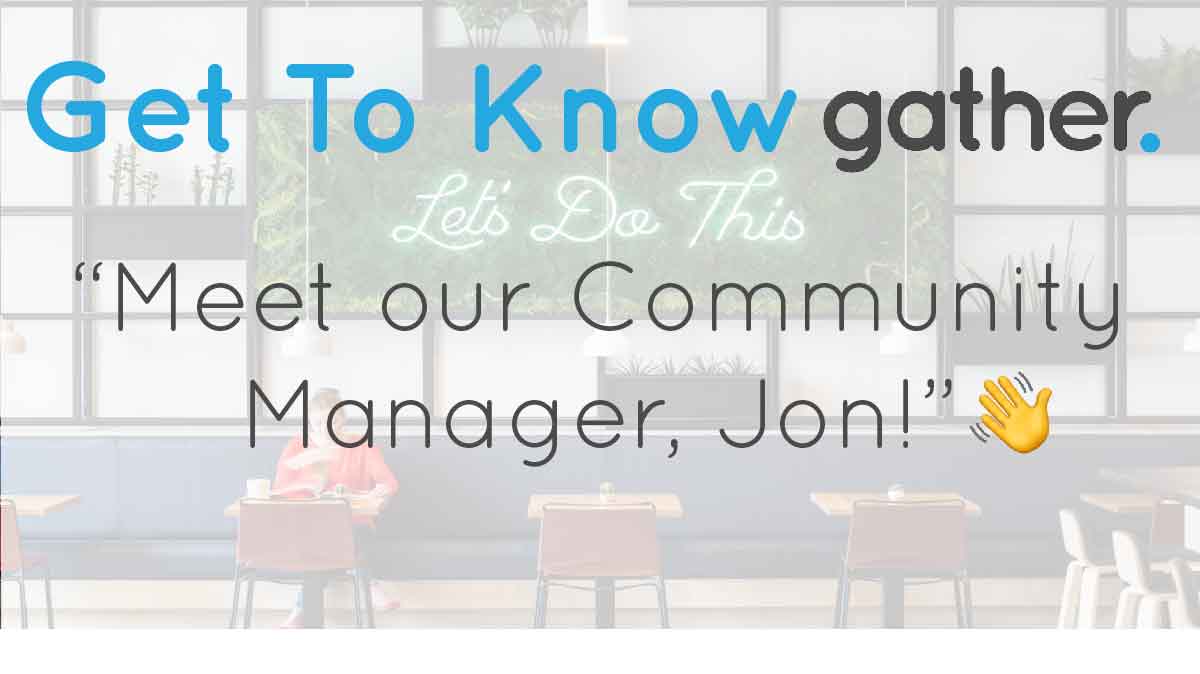 Today we sat down with our Community Manager, Jon Greenhill. Jon is vital part of our Short Pump location and if you have had the pleasure of working out of that space (or maybe you met him taking a tour! sign up here!), then you know how friendly and helpful Jon can be. Let's get to know him a little better, shall we?
Hey, Jon! How long have you been here?

I have been here for 6 months. Almost 7.

Awesome. What is your FAVORITE thing about Gather?

The people. The people make Gather an amazing place too work. I love hanging out, chatting, and catching up on life. I also love learning about what people do in their businesses.

Ok, go with your gut on this one, what's the first thing you think of when asked to describe a really good time you've had at Gather, whether on or off the clock.

I had a blast at our August Happy Hour. We had a great crowd of people who were really energetic and excited to talk and laugh. We had a lot of laughs at that happy hour, and it's always good when there's food.

Those Happy Hours are such a blast! Next q: Gather Short Pump is our furthest location from where we started at 409 E Main St; it certainly stands out geographically, but what's another way in which it stands out?

Gather short pump is also the most open and bright of our locations. I find that each of our locations reflect their neighborhood, and Gather Short Pump reflects the suburbs perfectly.
Hypothetical question: you're here at work in Short Pump and you are dying (dying) for some lunch : where do you go to grab some grub?

I go to Joey's Hot Dogs in Innsbrook. They have a Cheerwine fountain drink which is hard to find around here. (Also check out more top Coworker-selected Gather Short Pump lunch picks here!)
It's a Gather Short Pump v Gather Scott's Addition baseball game; y'all are at bat, the score is tied, and the bases are loaded. Which Short Pump Coworker would you bring in as your pinch hitter?

Christy Hall. She played softball in high school. I'd 100% choose her and the best part is she'd say the same thing, too.
Fun question: If you were here as a coworker what kind of work do you think you'd be doing?

I would probably be working with young adults, consulting, figuring out life, budgeting, all of things regarding figuring out "adulting." In short, helping young people become adults.
Dang, man, that's a great response. Ok, last two questions are also bonus Halloween questions!
What's your favorite Halloween candy??

I seriously love Reese's Peanut Butter Cups. (but since I can't do Chocolate I settle for Twizzlers)
What's your favorite spooky movie??

Bring It On.....cheerleaders terrify me.
Hahaha, what a finish! That's the first time I've heard Bring it On as a "fave spooky movie." Thanks so much for taking the time to meet with us, Jon!