Get To Know Gather's Newest Location:
Gather Arts District
The Space and Amenities:
Gather's Arts District location is located in the heart of the city at 313 East Broad Street. The new location includes:
21,000 square feet

Eighty offices, some with penthouse-like views

Two rooftop decks

A podcast room

Beautiful meeting spaces for members and their clients

A three story interior mural painted by Emma Scarvey

Showers and indoor bike racks

A community of approximately 300 full-time members once full
Gather Arts District (GAD) includes amenities for members that include:

Gather Arts District will be ready for the Grand Opening on July 24.
Future Gather Arts District Members:
Rachel Smucker "I am most excited about the intentional embedding of Gather into downtown RVA and specifically the Arts District. I can already feel the spirit (pouring out of our wonderful community managers!) of collaboration and the energy that is focused specifically on outreach to the surrounding community.

Roger Stallworth: "I am excited to be a part of the Gather family with like-minded entrepreneurs. This is my first office and the location is great with the city views, amenities and let's not forget the happy hour events!

Joseph Woodside: "I'm most excited about getting my first office. I'm also really excited to meet new people and continue to grow my network. And I've never had Kombucha, so I'm pretty excited to try it!"
The Neighborhood:
Originally coined Gather City Center, this new location is now be referred to as Arts District to more accurately reflect its neighborhood location. Historically known as part of the city between Virginia Commonwealth University and Downtown Richmond, the area lives up to its name.
Richmond's Arts District, along with the rest of the city, is full of local restaurants, art galleries and hidden gems that are within walking distance from our newest workspace including:
Take the GRTC Pulse to the Convention Center stop, ride your bike over and park it on one of Gather's indoor bike racks, or drive and park in one of the many nearby parking decks.
The Team Behind Gather's newest location:
Gather's production team is made up of a strong core of firms experienced in building Richmond Gather's:

Less Stress When Your Dog Is At Your Desk:
In other news, Gather Arts District is the first be dog friendly. What is better than bringing your four-legged friend with you as you head to work everyday? We're not sure either.
Gather Arts District is the only dog friendly location. Members with offices are welcome to learn about options regarding pets in their office.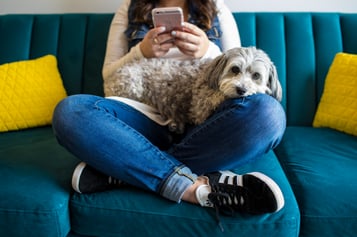 A study by the Virginia Commonwealth University found that when people had their pets around during the workday, they had much lower stress levels than those who had to leave their furry friends at home.

Members Agree -
Nicole Duimstra, Gather Downtown: "As a young professional, my dog is the one constant in my life. She has been by my side through the good and bad as I've transitioned into adulthood - apartment changes, job changes, relationship changes, you name it!"

Preston Edwards, Gather Short Pump: "We recently lost one of our dogs, Ruby, to cancer two weeks ago and our other dog, Kita is home alone, something she has never had to deal with before. It would mean the world to have her not at home alone and with me at work, around people and not missing her sister."

Kim Newcomb, Gather Short Pump: This new policy improves Gather members' day to day experience in a number of ways. It'll make it easier to stay a full day at the office. It'll also helps me maintain a healthier lifestyle, forcing me to get up, go outside, and walk around instead of sitting at my desk for hours at a time."



What is Gather all about?
Founded in 2014, Gather Workspaces LLC designs, builds and operates coworking, dedicated desks, and private office communities. In a single bundled price, members receive 24/7 access to Class A office space, amenities, Wi-Fi and utilities, social events, and state-of-the-art meeting rooms.
Pricing starts at $250 a month for full coworking access, allowing members to sit anywhere and use all amenities. Dedicated desks are $350 per month and private offices start at $500 per month.

Gather now operates four locations with a fifth opening this fall in Newport News.
Richmond
Scott's Addition, 2920 West Broad Street

Arts District, 313 East Broad Street

Short Pump, 2400 West Broad Street
Hampton Roads
Norfolk, 500 East Main Street

Newport News (opening this fall), 630 Hofstadter Road



To learn more about what Gather has to offer go to www.workatgather.com.

Media: James Crenshaw | (804) 347-0886 | James@workatgather.com