If you're like most people, when you think of a content creator you think of your favorite influencer, a sponsored post, or a video that went viral.
According to Devrix it is estimated that more than 50 million people think of themselves as content creators. While most of them consider themselves amateurs, more than 2 million have made content creation their full time job and primary source of income.
And according to Yahoo the creator economy has grown to a staggering market size of over $104.2 billion and is increasing at a steady pace!
Who are these millions of content creators? They are podcasters, video creators, musicians, visual artists, writers and journalists, and gaming creators. If you create content of any sort consider yourself a content creator!
Along with this explosion of content creators have come spaces for these creative people to have a sense of community that supports their ideas and helps them reach their audience and make a sustainable living. These spaces are both digital and physical.
Digital platforms, like Patreon, have sprung up over the past few years that give content creators the tools they need to acquire, manage, and engage with their paying customers. With their model, creators get to keep their creative freedom while receiving a salary that is fair to them, and fans feel confident that their money is being used to create more of their favorite art.
At Gather we provide the perfect physical spaces for content creators. Our workspaces include private office, shared office, and coworking spaces—giving you the flexibility to choose the one that works best for your creative process. And all our locations are designed to provide an inspiring and aesthetically pleasing environment to work in with plenty of opportunity to generate new ideas and capture content right where you work.

Our amenities also meet the needs of content creators. If you're a podcaster (or a wannabe podcaster) you'll certainly love the fact that at Gather we have podcast booths to help you produce high-quality content. No more recording in your bedroom closet to get the perfect acoustics! Or paying $60 to $100 an hour to rent a podcast studio!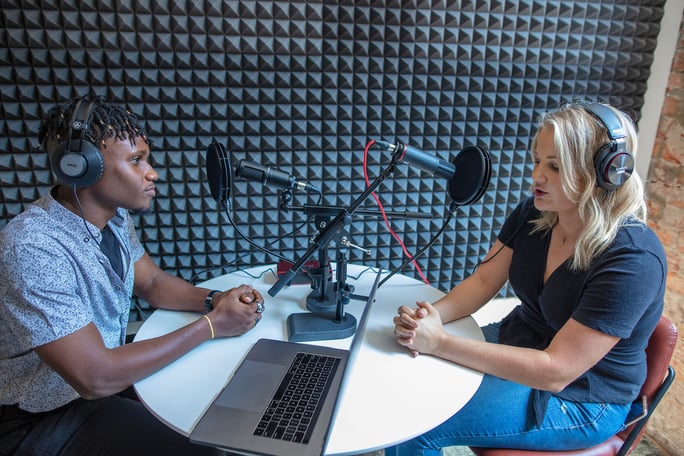 Our meeting rooms are equipped with audio-visual capabilities which is another advantage of choosing Gather as your content creator space. When you need to pitch a big idea or collaborate on your next project, we have the space that will help you get it done.
As part of our Gather community you also benefit from the many opportunities to connect with other members. Our community managers are always looking for fun and creative ways to provide events that allow you to unwind, mingle, and meet new people. Our happy hours, networking events and field trips are part of what makes Gather a premier workspace.
As a content creator you'll appreciate that many of our 7 locations are in the heart of innovative districts of the Richmond and Hampton Roads areas and only a short walk away from restaurants, museum districts, historic parks, and beautiful outdoor spaces.
What else makes Gather the perfect workspace? Our members have access to all our other locations. So here are options whether you need a change of scenery for inspiration or need to collaborate away from your workspace.
Our community is the heart of what we do, so join us and create content that ignites the imagination! Grow and thrive as a Gather member!