Those of you who have traveled lately may have noticed how busy the airports and highways are. According to travel management company TripActions, business travel bookings for the first quarter of 2022 outpaced more than half of all bookings for 2021, with an 875% increase from March 2021 to March 2022. Travelers are also booking what are known as "bleisure" stays—that is business trips combined with a few extra days of leisure.
However, natural challenges arise for the frequent business traveler who seeks a productive work environment. During the pandemic, the hotel industry did a great job of pivoting to offer day use of their rooms as private, on demand offices, but that's problematic going forward.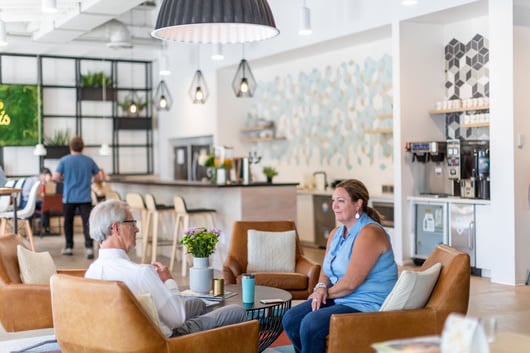 Hotels are for sleeping, not meetings.
And today, it's simply not appropriate to schedule client meetings or even meetings with colleagues behind that door. Separate rest from work. With Gather's focus on proximity and multiple office locations within the Richmond and Hampton Roads area, business travels can enjoy convenient office space and various amenities that bolster work productivity.
Coffee shops do not make the best coworking spaces.
What about a local coffee shop? Sure, it helps in a pinch when you have to knock out a few emails, but you miss out on the ability to collaborate and brainstorm with your team or clients in a professional space.
Gather offers 7 locations in the Richmond and Hampton Roads area providing regional business travelers a great place to work from, even extend their stay and enjoy all this region's local attractions have to offer for relaxation and fun!
Richmond
Arts District 313 East Broad, Richmond, VA 23219
Midlothian 14321 Winter Breeze Dr. Midlothian, VA 23113
Scott's Addition 2920 W Broad St Richmond, VA 23230
Short Pump 2400 Old Brick Rd Glen Allen, VA 23060

Hampton Roads
Newport News 700 Tech Center Pkwy Suite 200 Newport News, VA 23606
Norfolk 500 East Main Street Norfolk, VA 23510
Virginia Beach 249 Central Park Avenue Suite 300 Virginia Beach, VA 23462

Next there is the convenience of our multiple locations. As more and more people are feeling comfortable with in-person meetings, we are seeing an increase in our members taking advantage of our other Gather office spaces to meet clients or work with team members who live or work closer to one of our other locations. Just think how impressed your clients would be if you were able to meet them in a first-class office space within easy reach of where they are!
Not only are our locations convenient for you, your team, and your clients but they also have all the amenities you expect from a professional office space. At Gather, you'll find everything from freshly ground local coffee and nitro brew to beer on tap daily after 4PM, to the availability of phone booths, conference rooms, and podcast booths. No need to run to the local print shop—we provide complete copying, printing, scanning, and faxing services right on premise.
At Gather we are renowned for our helpful and friendly community managers who go out of their way to make sure our members balance out the work with a good measure of fun! There is always something entertaining to do, whether that's networking, happy hours or field trips!
Membership at Gather is not a one-size-fit-all solution. We offer many different options such as office suites, private office spaces, dedicated desks, coworking, and pay-as-you-go. Visit our workspace solutions page to find out more.
If you're an individual looking for the ultimate workplace solution then our Pay-As-You-Go is for you! It offers great flexibility for anyone looking for a "normal business hours" workspace with the flexibility of our coworking spaces, phone booths, conference rooms—all possible by using our a la carte menu.
Grow and thrive as a Gather member!