One of the biggest expenses companies face every month is office space. Depending on the location, companies can spend thousands each month to accommodate their employees. Usually, these high costs arise from signing a lease for a traditional office space. However, as work trends shift towards hybrid and remote work, the advantages of flexible workspaces become increasingly valuable.
Flexible workspaces offer cost savings and flexibility for companies that prefer not to commit to a traditional office lease. In addition to being more cost-effective, flexible workspaces provide a wide range of workplace solutions compared to traditional office spaces. Whether you run a small business or a large enterprise, flexible workspaces offer the perfect amount of space you need at an affordable price.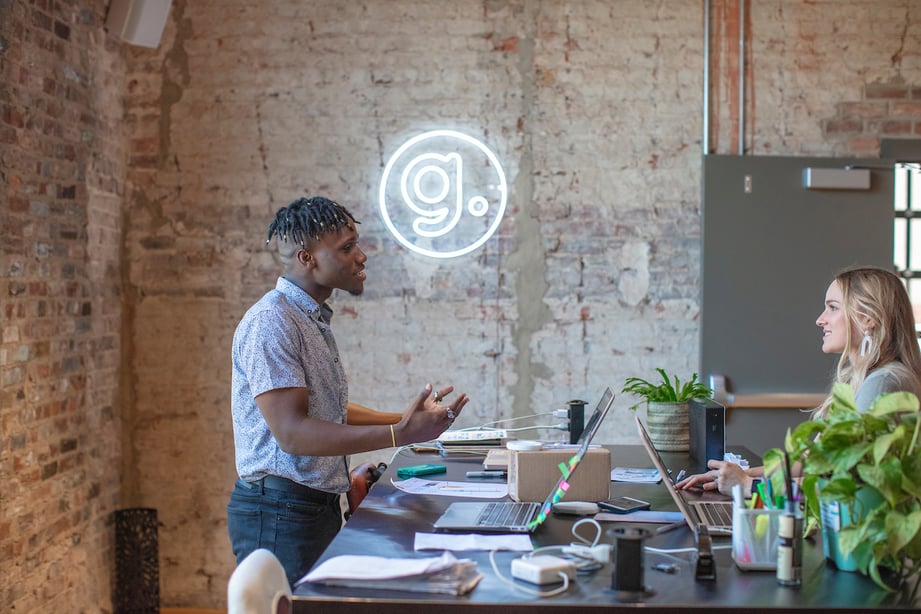 Flexible workspaces also handle internet connectivity, building maintenance, and utilities, alleviating the hassle for your company. You can choose to pay month-to-month or opt for a yearly membership based on your specific needs, eliminating the need for lengthy lease agreements.
At Gather, we provide a variety of workspace options across multiple locations, designed to enhance your team's productivity and boost your business's bottom line. Whether you're a freelancer, team member, or business owner, we have compiled answers to some of the most frequently asked questions about Gather's flexible workspace solutions to help you make an informed decision.
How much does office space cost per square foot?
At Gather, you no longer need to pay for square footage that you never use. You only pay for the space you require. Our pricing is determined by the number of people included in your workspace membership. Shared spaces like bathrooms, conference rooms, mail rooms, and wellness rooms are not included in your monthly price.
To learn more about our pricing solutions, please feel free to contact us for customized pricing.
Are utilities included?
One of the many advantages of flexspaces is the cost-saving benefits they offer. At Gather, all utilities are included in your monthly price. These savings can accumulate significantly. According to a report on commercial energy consumption, the average annual cost for electricity in office buildings is $1.44 per square foot.
What if we need a private conference room for our office space?
Gather's workspace solutions include access to conference rooms whenever your company requires one. With a membership, you have the convenience of booking different-sized conference rooms at any of our locations. These rooms are pre-equipped with everything you need for a productive meeting space. They are designed to prioritize privacy and workplace efficiency, ensuring minimal distractions.
Is dedicated internet available?
At Gather, our mission is to cater to the specific needs of our members' businesses. Our IT team will consult with you to meet your internet requirements.
Do you have a receptionist?
Each of our locations is staffed with Community Managers dedicated to ensuring a productive and fulfilling experience for all. While our Community Managers are not traditional receptionists, they work full-time and are readily available to help everyone in our work communities.
What fees are added to the rent?
Our month-to-month and yearly pricing plans are nearly all-inclusive. Additional fees are typically only applied if print-allotment limits are exceeded or conference room credits run out. However, we strive to work with our members to avoid any extra charges.
Can phone calls be transferred to an office?
Clients and customers should call our members directly. Incoming phone calls to Gather locations cannot be transferred to specific offices.
How long are the membership terms?
Recognizing the expenses associated with traditional leases, we offer a more flexible alternative. With a Gather membership, you can choose between month-to-month or yearly plans. We tailor workplace solutions to fit your office needs and budget.
Is access to the office space limited?
Gather office memberships grant you and your team 24/7 access to our workspaces, so you never have to worry about access.
Do we share office space with other members?
Regardless of which office space you need, you will not share this with other members. Your office space is only for you and your team members. The shared spaces include common areas, such as the bathrooms, mail rooms, and wellness rooms.
Discover your perfect workspace with Gather: Book a tour today!
Gather provides workspace solutions for freelancers, small business, and enterprises. Save money and maximize productivity with a workspace solution at Gather instead of a traditional office space.

Book a tour at one of our locations and learn more about how Gather can give your business the space to thrive!
How much office space does your team need? Tour one of our seven Gather locations to find out.
Gather is the best place to cowork and rent office space. Not only do we help our members broaden their network, but we also help them to deliver on a human-centric approach to employee experience and engagement. Our community managers will walk you through our workspace solutions and show you around the space.