Remote work has been a defining trend of the past few years, with companies of all sizes and industries switching to virtual or hybrid models. At Gather, we recognize the benefits of remote work and the reasons behind its growing popularity.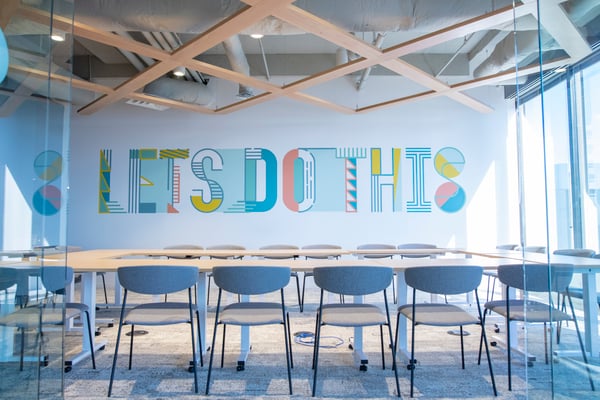 It's no secret the average team member spends more time in virtual meetings than in person. See the recent study from Gartner below:

Online meetings are a way to stay on top of workflow demands. They're flexible, efficient and reduce the time and travel it takes to organize in-person meetings. However, the benefits of in-person collaboration have been analyzed and unsurprisingly, studies show how vital it is.
Enterprise Apps Today states that online meetings lack team engagement, breed outside distractions, and run the risk of information overload. Team members are also more likely to multitask during virtual meetings (Enterprise Apps Today, 2022), which negatively impacts leadership's ability to convey key messages.
So, the truth is that face-to-face interactions cannot be entirely replaced. Booqed shared in a recent study that 34% of people find it hard to "read the room" in virtual environments and 31% are annoyed with video quality issues.
Hybrid and virtual work cultures may be the new norm for many companies, but it shouldn't stop executives from planning in-person meetings and events throughout the year to enhance relationship dynamics and ensure company goals are met. Take it from Gather - we see businesses of all sizes, types, and industries every single day. It is very common for members and non-members to rent our spaces for company-wide or leadership meetings. If your company is a hybrid or virtual one, here are a few suggestions for in-person meetings you should host:
Brainstorming Sessions
Are you stuck in a rut or need a new perspective on a work situation? A brainstorming session with key team members can spark new ideas and help you make progress. An in-person brainstorming session is usually more effective because it allows for more open and direct communication. Members of the team can share their thoughts and ideas more freely in person, as well as build personal connections with one another. In addition, in-person sessions allow team members to observe each other's nonverbal cues and body language, which can help build trust and understanding.
Year-end Reviews
According to a survey by Glint, an employee engagement platform, 82% of employees said they preferred in-person feedback over virtual feedback, indicating that the majority of employees feel that in-person feedback is more meaningful and impactful (Glint, 2020). Year-end reviews are critical for both the employee and the manager as it sets the tone for the next year's performance and sets clear expectations for the employee's future career development. Hosting these reviews in person allows for more personal engagement, which ultimately can lead to more meaningful conversions between the employees and the managers. Another perspective to remember is that in-person reviews provide the environment to discuss sensitive topics in a confidential manner. This may be difficult to achieve in virtual settings where distractions and technical difficulties can arise.
Quarterly Reviews
Quarterly meetings play a crucial role in keeping teams on track and communicating progress toward shared goals. When quarterly meetings are done in person, your team has the ability to digest your presentation in an easier way. It allows participants to see demonstrations, diagrams, and other materials in real time. When discussing goal tracking and progress, it's very beneficial to have a more interactive and hands-on discussion. It aids in your team's ability to retain information while also providing a more positive and energizing atmosphere.
Leadership Retreats
Leaders need to occasionally step back from day-to-day operations and reflect on their goals and plans for the future. In-person leadership retreats provide a break from the distractions and interruptions of daily work life. Leaders who are constantly connected digitally to their work need time to pause and lift their heads from the details of the business. These retreats are great for increased focus, creativity, and productivity. Physical proximity also allows for more relaxed and informal conversations, which can lead to great trust and understanding between leaders.
Book your next team meeting at one of our seven Gather locations.
Enhance the way you communicate, collaborate, and perform at work. Researchers at the University of California, Irvine have found that face-to-face interaction increases levels of oxytocin, the hormone associated with trust and social bonding, by 48%. Having in-person meetings may result in greater teamwork and camaraderie within your organization, ultimately leading to greater sustainability.
Think of Gather when selecting your next location for your company's in-person meeting. We provide high-quality meeting spaces at affordable rates for nonmembers. Some benefits and features are:
For small and large teams (2 – 34 people)

Includes high-speed wireless internet access and unlimited fruit water, tea, and coffee

Available at any one of our 7 locations in Richmond and Hampton Roads area

Select audio-visual equipment available in most of our meeting rooms

Whiteboards available
Gather's meeting rooms are available on-demand. Solidify your next team meeting with us today.
Looking for private office space or coworking memberships for you and your team? Gather provides various workspace solutions for the growing business.