Sedentary lifestyles are on the rise, with the majority of people in the United States sitting for 6.4 hours a day on average–with an even more startling average of 25% sitting for more than 8 hours per day! For most people, days consist of getting ready for work, sitting in traffic, sitting at their desk, and then heading back home, only to sit on the couch and unwind with TV. It can be hard to make the time for physical activity and leisure outside of work. Biking to work may in fact be your answer to getting daily movement, saving time, and more! Let's dive in.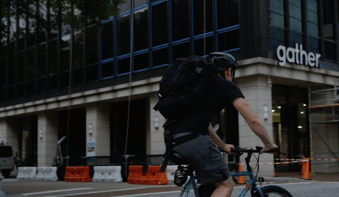 What are some of the benefits of biking to work?
Instead of driving to work, try beating the traffic and hopping on your bike! With a US average commute time of 26.9 minutes, it's no wonder why it can feel like there's not enough time in the day! Not only is so much time used up in just commuting to work, you're also not getting the exercise you could be getting.
Biking to work can save you time and can serve as your physical activity for the day. Depending on elevation and environmental factors, biking can burn up to 300 calories in 30-minutes! To add to that, switching out driving to work for biking can drastically reduce stress and lower your chances of developing illnesses–especially those caused by stagnant lifestyles, like heart disease and high blood pressure. In tandem with physical health benefits, there are so many mental health benefits that exercise can provide, such as decreased stress levels, increased feelings of happiness, and a sense of freedom and accomplishment.
Now that we've spoken on the health advantages of biking to work, let's talk about the financial and environmental benefits. Biking to work can also mitigate your spending in different areas, including gas and gym memberships, to name a few. On average, riding your bike to work can save you up to $800 a year on gas–that's not including the $600 a year you can save by foregoing a gym membership; not to mention the time you save by knocking out two birds with one stone.
You can exponentially increase your yearly savings by deciding to take the plunge through trading in your vehicle, cancelling your car insurance, and opting for a bike.
What's even better? Knowing that you're looking out for your physical and financial wellbeing while also doing your part to reduce your carbon footprint on the environment.

Is riding your bike to work for you?
If you're interested in reducing your commute time, increasing your physical activity, and reaping the benefits of biking to work, check out our private offices and coworking spaces in Richmond, VA! Our members at Gather Arts District and Gather Scott's Addition rave about being able to utilize our indoor bike racks, surpass the downtown traffic, connect more with their community around them, and explore what the area has to offer!
Gather supports your active lifestyle!
Our staff and community at Gather ensure the best for our members by providing them with everything they'll need to accomodate a healthy work, life balance. If you're thinking about shared office spaces in Richmond, VA, schedule a personalized tour of any of our locations!