THANK YOU ALL for helping to make last week's Arts District Grand Opening so special!
Whether there in person or in spirit, we certainly appreciate all the support – as the saying goes, it takes a village to raise a grand celebration. Here's a quick recap of the evening's highlights:
Old Friends and Frothy Beers
As the beer foam simmered, conversations bubbled to the surface all around our new Arts District home as the party expanded into the open indoor space. A few party goers even stepped outside despite the weather for a chance to see the new rooftop deck pictured above, which overlooks Broad Street and all the neighboring shops, scenes and architecture that make our newest location so unique (special shout out to Hickok Cole Architectural Design and Campfire Interior Design for their amazing collaboration with the space!).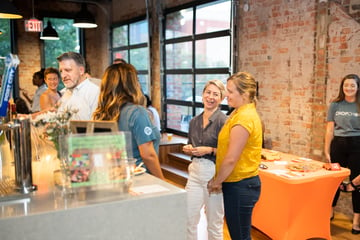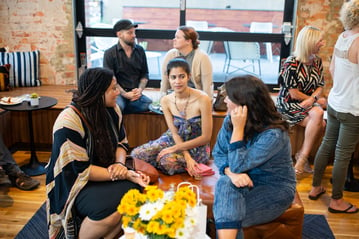 Each Gather location was represented, with new members driving in all the way in from Norfolk! (I know, right!?) Jess, our former Community Manager from Short Pump, even rushed back from New York to be there (she says she was just visiting family, but we don't believe her ;-), and Emmalee, our former Scott's Addition CM, couldn't help but to return as a representative of The Wild Heart clothing, one of our amazing participating vendors. Even Natasha Freeman, our very first community manager, now owner of Lucid Living, was back to celebrate!
That Food Though...
That food was DE-LICIOUS!
And for the alley oop, EAT Restaurant Group came in strong with plates from Hot Chick and Fatty Smokes to spoil our taste buds with a veritable smorgasbord of delectable dishes, including mac and cheese, 'magical' rice, hot chicken and dipping sauces… mouths are still watering.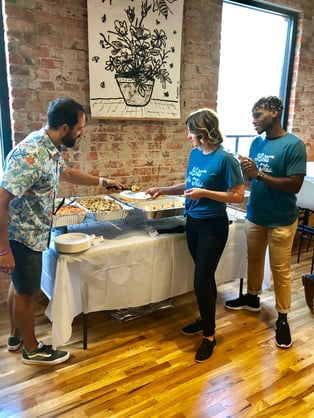 Incredible Sponsors and Vendors
And we mean 'incredible' that in every sense of the word.
These groups are THE BEST! Make sure to check them out when you have time.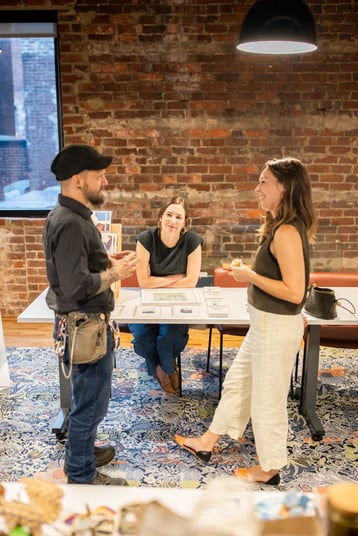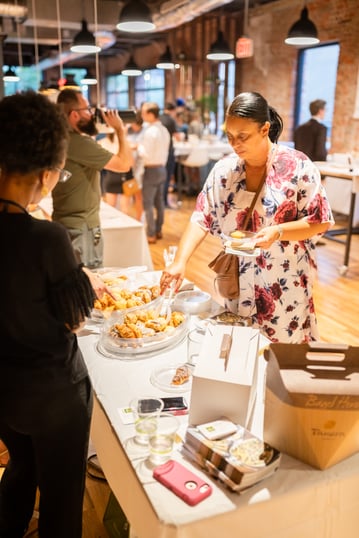 In Conclusion
We loved every minute of it. Basking in the grand opening party's glow last Friday, reminiscing on conversations and vivations, the food, wine, craft beer and all the support of our amazing partners and sponsors, a proverbial tears came to our eyes.
Thank you all from the bottom of our hearts! More vivations and celebrations coming soon. Thinking about checking out Arts District? Click here to schedule a tour today.
Much Love,
The Gather Team