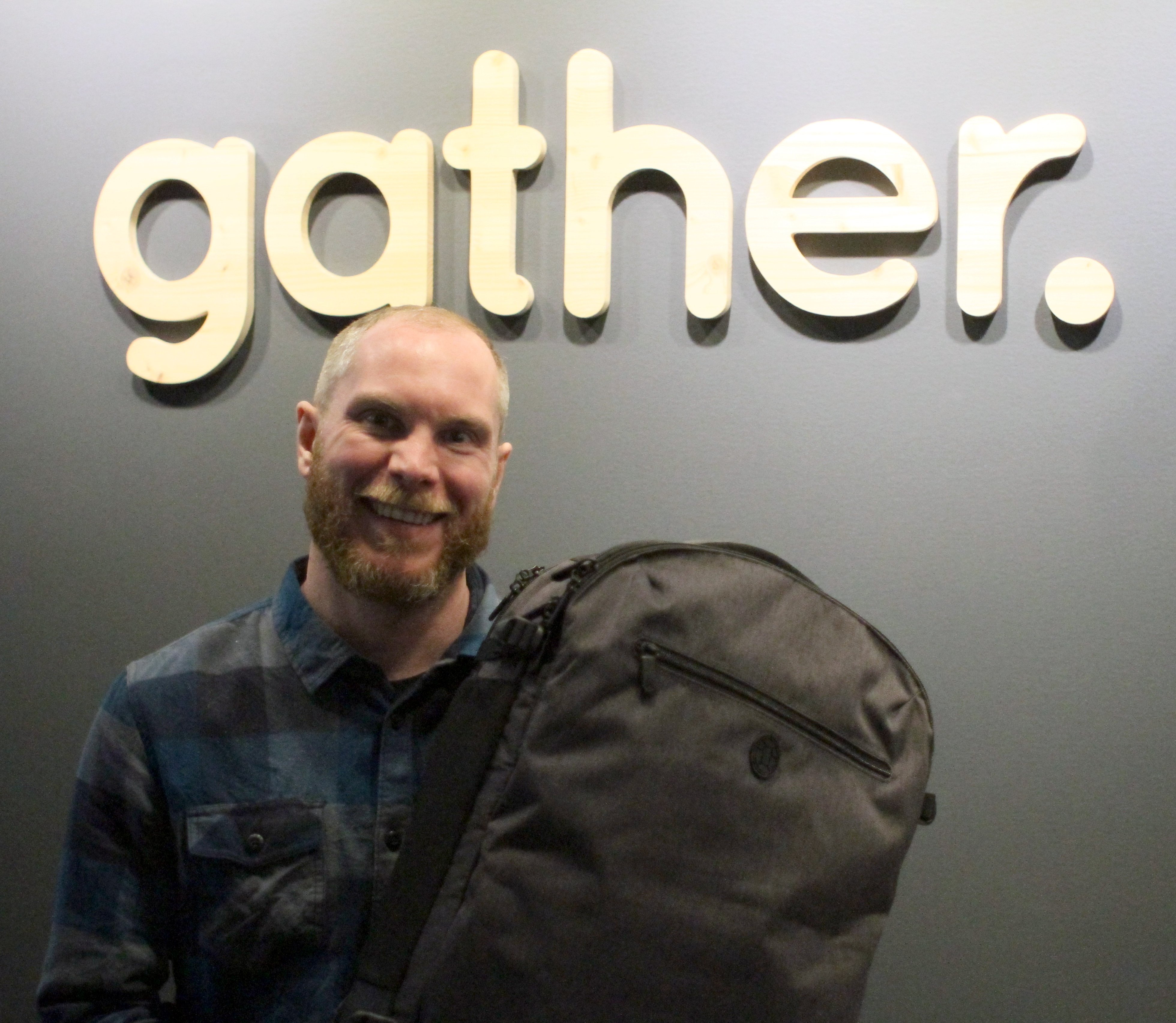 Hey, folks! Thanks for joining us for this latest edition of Gather Spotlight. Meet Patrick Healy. We decided to meet with Patrick because he is helping design awesome bags geared toward helping you avoid the cost and hassle of checked luggage. The bags come from Tortuga Backpacks, and taking one look at their website, or the photos included here, one can tell right away that these bags not only come in an elegant, modern design, but that they mean business.
Before asking Patrick the following questions, we had a nice chat with him the other day in our (new and improved!) Fox Room in our Scott's Addition location -- the Gather location out of which Patrick works. We felt that getting a good feel for "who he is and what he does" could better determine the questions that best pertain to you, our reader; and to the life of productivity, of Coworking, and being a part of a community both large and small. Let's dive into the world of industrial design!
---
Hey, Patrick!
So, right off the bat, would you mind telling us a little bit about yourself and what you do?
Hey! So I am the Industrial Design Director for Tortuga Backpacks. I help our team figure out what problems to solve, design products that solve those problems, and help make sure our team is effectively communicating the value of those solutions to the world.
Awesome! And we gotta know... What makes Tortuga Backpacks the best for carry-on travel?
So, as a product designer, this is a pet peeve of mine. There is no best product in any product category. Every person has different needs, values, and sensibilities. It's impossible for one product to be the best for every person.

What I can say is that Tortuga is a completely remote team made up of avid travelers, including a few full-time digital nomads. We are all carry-on only travelers who know how to spend months, even years, living with nothing more than what we can carry on our backs. Beyond that, we are the only brand that focuses exclusively on carry-on only products. For most companies, carry-on bags are an afterthought. It's the only thing we care about. We understand the problems that carry-on travelers face and we know how to solve them.

Our bags carry-on sized, easy to pack, as comfortable as possible to carry, and built to last a lifetime. Through our blog, Packsmith, we provide all of the resources you need to learn to travel with as little as possible.

For reference, I went on a two week trip to Canada in December of 2017(when it was really, really cold). I carried a bag not much bigger than a school backpack. After the trip, I analyzed what I carried, what I needed, and what I didn't. I came to the conclusion that I overpacked. We know how to travel light and we know how to help you travel light.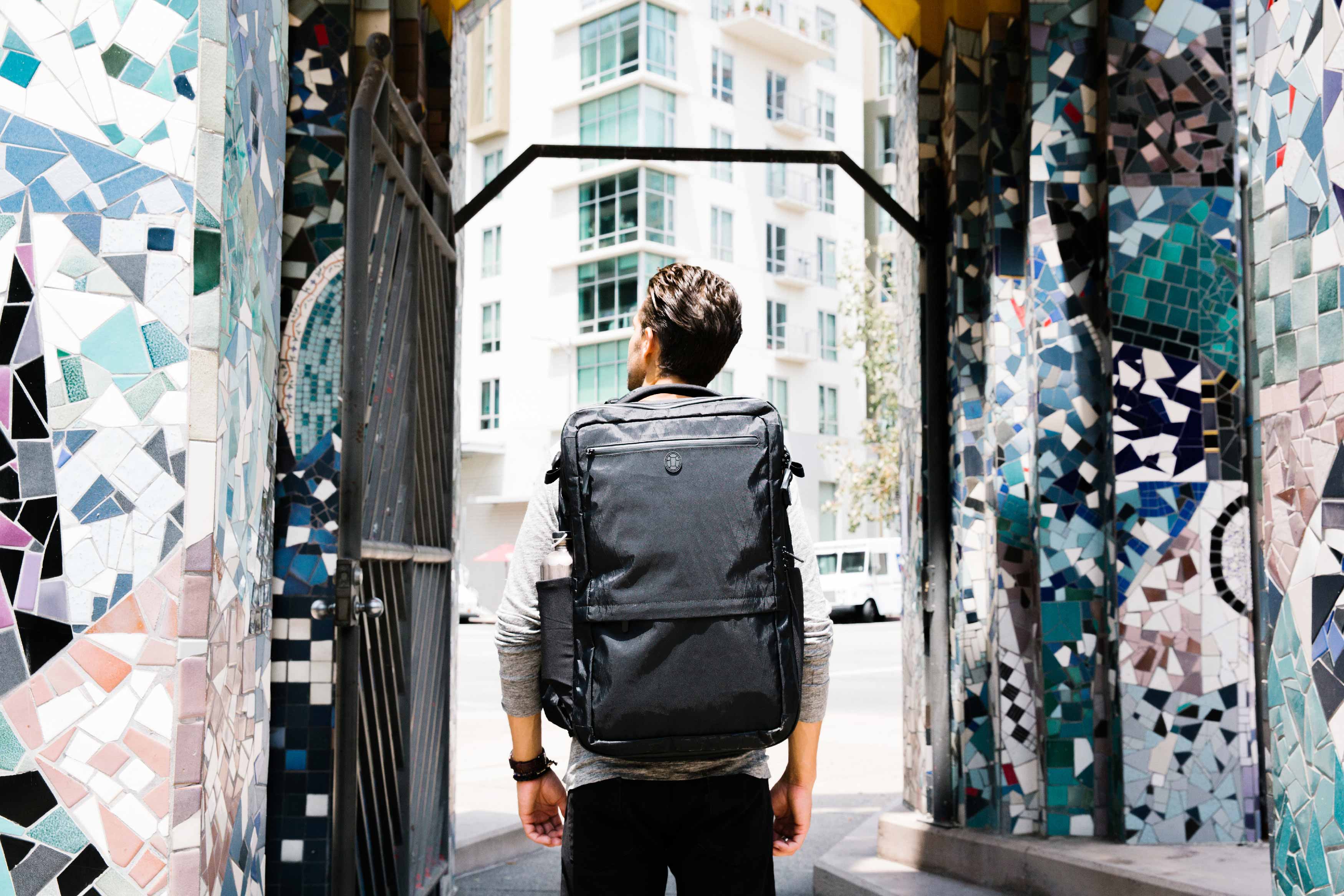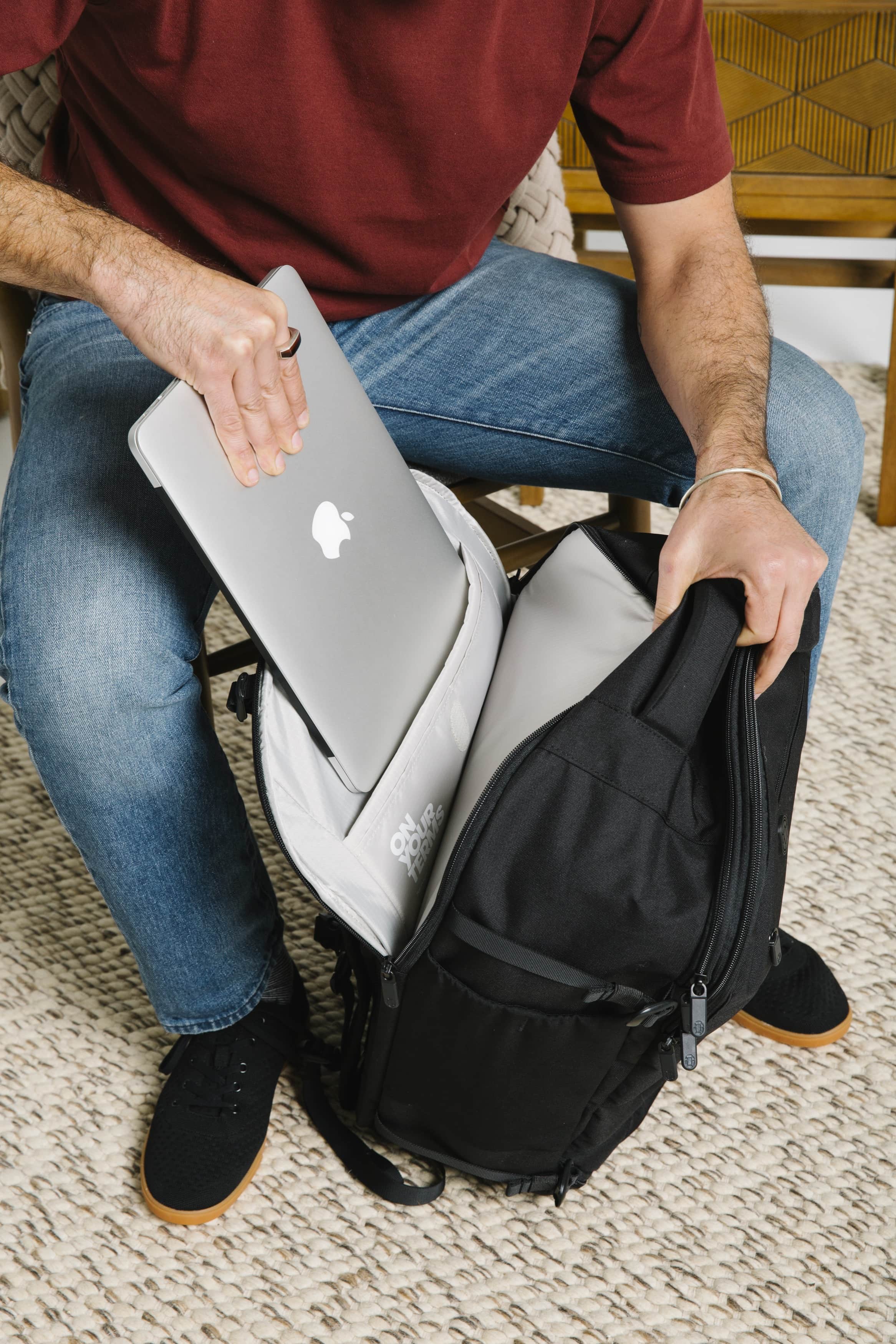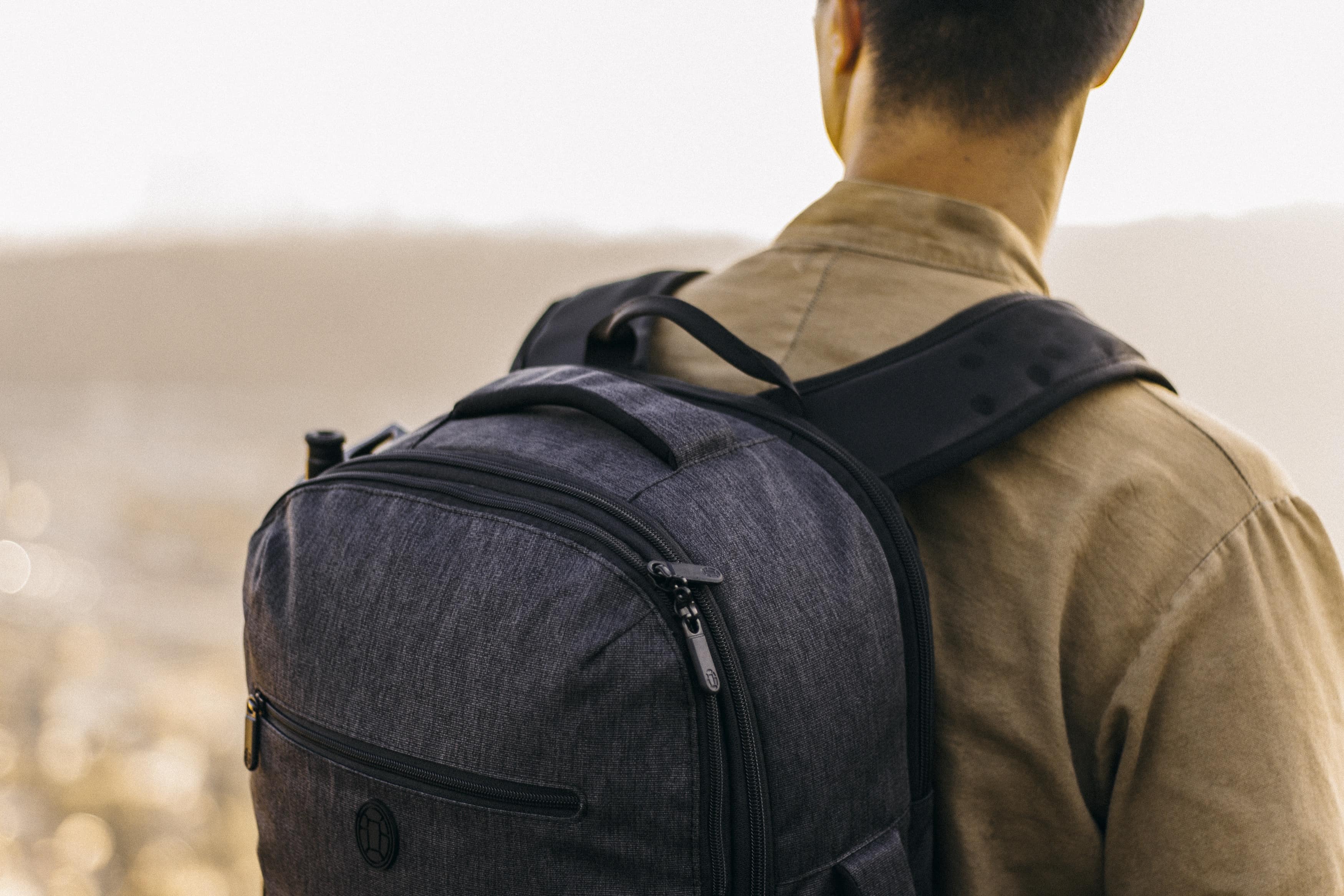 You mentioned in our meeting that you've worked in coworking spaces in San Francisco -- anything different you notice about the culture of coworking here vs. coworking in San Francisco?
In San Francisco, coworking spaces are filled with people in the tech industry or people who provide services to the tech industry. This creates a very insular community. While I've worked with companies in the tech space before designing everything from headphones to robots, it's not the only thing I care about.

Gather is a refreshing contrast. The community is filled with a diverse group of coworkers and businesses. That means our events aren't just tech industry networking events masquerading as "fun". They are an opportunity to actually get to know people for who they are not what value they might bring to my business or my career.

We're glad to hear you're happy with the culture of coworking at Gather. What first attracted your academic/professional attention to a field such as industrial design? Were there any "light bulb" moments with well designed products?
I've been interested in the field as long as I can remember. I've always been enamored by the idea of mixing art and science to help solve the problems people face in their everyday lives. It just took me a while to realize that it was actually a profession. When I was 12, I sent drawings of products I "designed" to Nike HQ hoping they would make them. While I quickly realize that was an unlikely path forward, it didn't kill my dream.

Design is a strange profession. To do it well, you have to have enough ego to believe you can make things better than they are today, but enough humility and empathy to learn from the world around you to truly understand the problems that people face. You can't just rely on yourself or what people say they care about. You have to be able to get to the root of how people truly feel. If engineering is applied physics, design is applied psychology.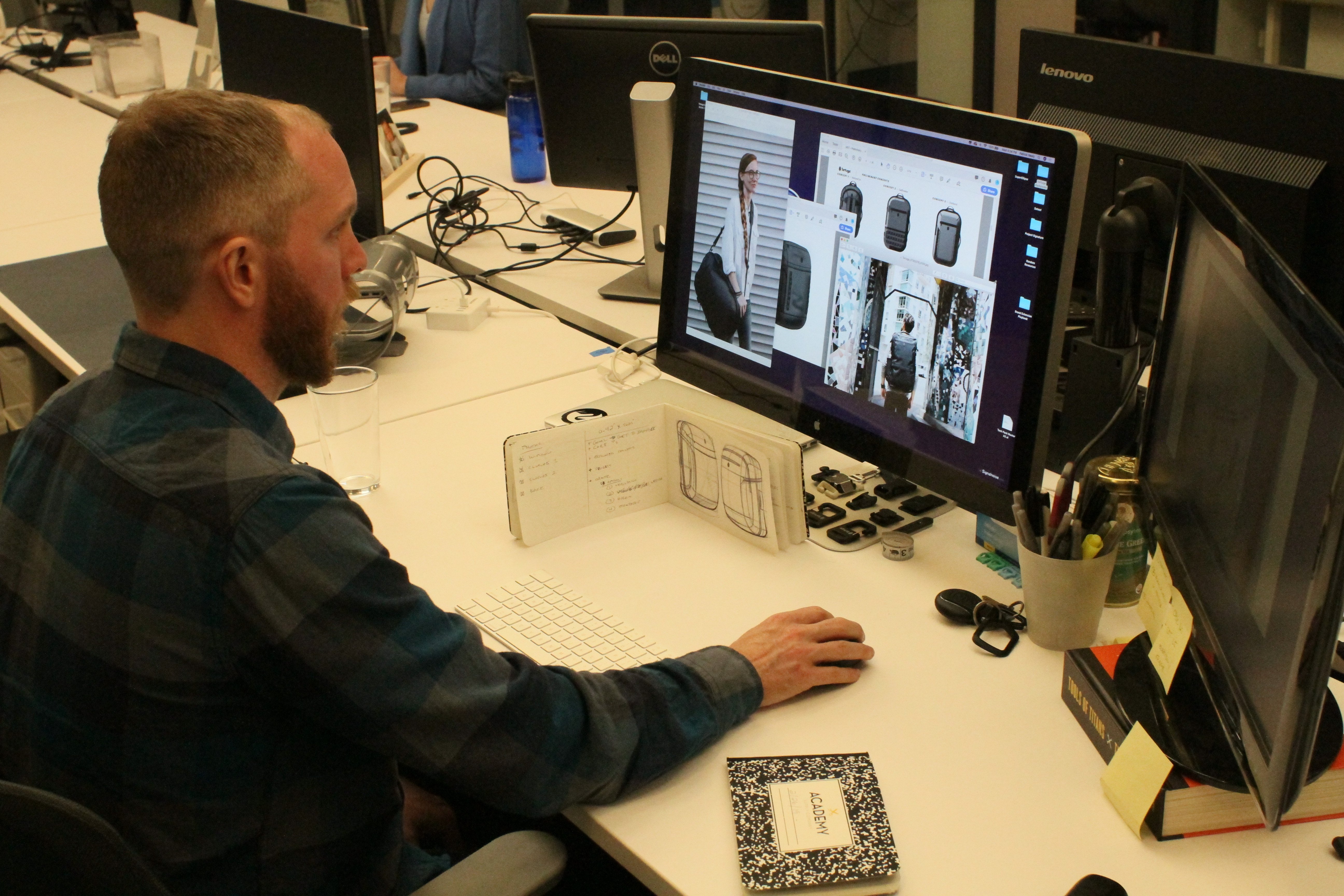 You mentioned that you work for a company in which every member works remotely. What do you perceive as some of the more nuanced benefits of working remotely out of a coworking space rather than, say, working out of your own home?
For most tasks, I've learned that I am more effective, creative, and efficient when I work in a setting surrounded by other people. Humans are social creatures and isolation is not good for our mental health or productivity. There are certain tasks, like challenging analytical reading, that I can do better in isolation. For everything else, I do better work in a space filled with people.

The strange thing that I've found is that I get these benefits even if I go the entire day without talking to anyone. Social energy is contagious. Think of the feeling you get at a concert when everyone is singing along with the band. You can get an equivalent rush when you are surrounded by people doing great work.

How has working in such a field as industrial design taught you about solving problems and achieving goals -- something that can be translated to wisdom and advice for our readers working in any field!
Industrial design is, at it's core, a process for solving complex problems that don't have a clear solution. I've found that in an ambiguous world, having structure around the problem solving process is incredibly beneficial because it allows you to focus on the problem you are trying to solve.

Next, it's clear that most people focus tactics when they try to solve problems and focus far too little on what they are trying to achieve. At best, tactics are a tertiary concern. The most important thing in problem solving is to be as clear and concise about your vision for success as possible. If your problem has more that 3 fundamental requirements, it's too complicated. The most effective problem solving efforts focus on overcoming 1 specific core challenge.

This is hard to do because if forces you to say no to most potential paths. Most people are very resistant to that idea. This is the difference between a bland product or service that no one cares about and a successful solution with passionate customers who do the hard work of growing your company for you. If you can effectively define your problem, solving it is generally not that hard.

Finally, problem solving is about humility and iteration. You can't assume that you know the answer to the problem before you start the process of solving it. That's incredibly naive and arrogant. It leads to poor, generic solutions. Instead, you should generate as many potential solutions to every problem as you possibly can to figure out what actually works in the real world. When you think you've exhausted your ideas, force yourself to come up with 10 more. Then 10 more. Then 10 more. That's the true nature of creativity.

For a typical project at Tortuga, we come up with 50-100 ideas, refine 5-10 to the level that is needed to start the prototyping process, prototype 3-5 concepts, and end up with 1 product. We only release about 30% of the product we develop. The rest are not good enough to wear the Tortuga name. You have to be willing to fail most of the time in order to do work that matters.

Awesome! Thank you for the insight. Ok, the last question is a real easy one, and we want you to really go with your gut on this one, give us the first thing that comes to mind -- what's a really good time you've had at Gather? Any experience is acceptable, big or small!
This is less specific than you probably want, but what makes Gather great is the opportunity to develop meaningful relationships with people you would never have the opportunity to meet otherwise. It's the little moments of joy like having a deep, genuine conversation with a group of virtual strangers or finding a welcoming face in a crowd of strangers at Bamboo that make being a part of Gather worth it.

We act as if happiness is some impossible dream, but research shows that it's actually incredibly simple. Happiness requires being a part of a close-knit tribe of 50-100 people and doing work that makes you feel like you are contributing to your tribe in a meaningful way. You must willingly make sacrifices for others in your tribe so that, when you need them, they will make sacrifices for you. In a world where we've removed many of the rituals and most of the structure from our daily lives that contribute to our happiness, communities like Gather are

important to helping people live healthy, meaningful lives

Whoa, definitely food for thought. Thanks for taking the time to meet with us, for giving us something to think about, and thank you for being a part of this Gather community!